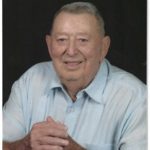 Mr. Thomas "Tommy" James Thompson, 83, of Statesville, N.C., passed away at his home suddenly on April 29, 2020, after several years of declining health.
Tommy was born in Rowan County on January 26, 1937, to the late Coyet Allison and Bonnie Brown Thompson. He was also preceded in death by his sister, Lillian Green.
Tommy was a graduate of Cleveland High School, Class of 1955. While at Cleveland, he was named grand champion of the Future Farmers of America in Rowan County and received the American Farmers degree at the national convention in Kansas City, Missouri. He also received the DeKalb agriculture award.
Tommy was an independent dairy farmer for many years, employed by Southern Screw, and retired as a truck driver with Jack Wooten Trucking after over 27 years. Additionally, he served as a substitute mail carrier.
Tommy was a member of Bethel United Methodist Church and was a charter member of the Methodist Men. Previously, he was a member of Elmwood United Methodist Church, where he served as Superintendent of Sunday School, was a Sunday School Teacher and served in several offices.
Tommy loved gospel singing, NASCAR racing and helping others. Tommy was always in church on Sunday mornings. He always had a smile on his face, and was well loved and respected in his church and community.
Left to cherish his memory is his wife of 58 years, Margie Snider Thompson; sister, Sylvia T. Warren; brother, Ronny (Gladys) Thompson; brother-in-law, Louis Snider (Eve); sister-in-law, Brenda Snider; sister-in-law, Phyllis Watkins, numerous nieces, nephews and many other loving family members.
Tommy will lie in state starting Monday, May 4, 2020, from 9 a.m. until 5 p.m. and from 9 a.m. to 1:30 p.m. on Tuesday, May 5, 2020, followed by a Funeral at 1:30 p.m. in the Chapel of Nicholson Funeral Home. Rev. Jonathon Sherrill and Rev. Anne Tavenner will be officiating. Tommy's funeral will be live streamed on the Nicholson Funeral Home Facebook page. Burial will follow at Iredell Memorial Gardens.
In lieu of flowers memorials may be made to Gideons International, Statesville North Campus, P.O. Box 1321 Statesville, NC 28677 or the Samaritan's Purse, PO Box 3000, Boone, NC 28607.
Memories or condolences may be left for the family at www.nicholsonfunerals.com.
Nicholson Funeral Home is honored to be serving the Thompson Family.