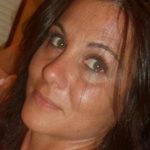 Tiwanna Shawnta Hiott, 41, passed away peacefully Tuesday, August 25t, 2020, at Novant Heath Forsythe Medical Center with her beloved husband and daughters by her side.
Tiwanna was born on Tuesday, December 12, 1978. She was preceded in death by her father, Larry Wilcox, and brother, Chad Case. She is survived by her beloved husband Jerry Fitchette; her daughters, Kaycee and Kelly Hiott; her grandchildren, Chad and Lincoln Porter and Macie McDaniels; her parents Terry and Barbara Case; Vonnie Ryals, Donna Burr; and grandmother Geraldine Justice.
Tiwanna radiated in beauty and had a passion for life and lived hers to the fullest. Her daughters and grandchildren were her life's greatest treasures. She loved music and spending time with her family at the campground. She was incredibly hardworking, warm-hearted, and selfless. Tiwanna was one of the silliest people you could meet. If you were feeling down, she would always put a smile on your face.
Tiwanna will dearly be missed by those who knew and loved her. Her life and memories will live on through her husband, daughters, and grandchildren as well as many sisters, friends, and family she will never be forgotten.
A private celebration of life will be held in her honor with her loved ones.
Chapman Funeral Home is serving the family.