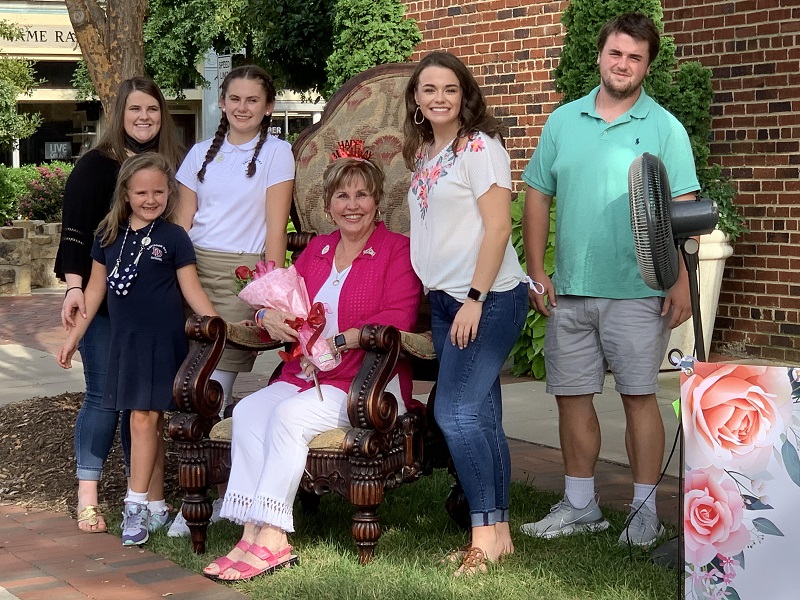 BY BRANDY TEMPLETON
Friends and family members of Statesville business owner Gloria Hager held a surprise drive-by birthday party on Thursday to celebrate her 75th birthday.
Wearing a crown, Hager sat on a throne outside gg's art frame and gifs and greeted well-wishers.
Her family members, including her children and grandchildren, handed out cupcakes and water to those who came by.
"I'm so thankful to have great friends," she said.
"Everybody's her friend," Janis Ford said. "She claims to be the queen, but we argue about that."
Hager's daughter, Jennifer Holden, said it was hard to keep the event a secret from her mother.
"She's hard to surprise," she said. "She showed up when she wasn't supposed to."
It was gratifying for Holden to see how many people love and care her about her mother.
"This is her life's work right here," she said. "She loves Statesville— this is her hometown."
Ford smiled as she watched her friend's eyes light up with every honk and wave.
"She's just one of those people who accidentally fell into my life and became my best friend," Ford said. "There's only Gloria."
Hager summed up her reaction to the event in a few words.
"I just feel loved," she said.
Video
Photos