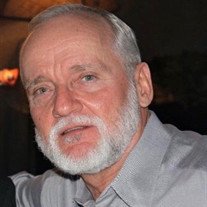 A much-loved husband, father, grandfather, son and brother, Tomas Malberg, 76, of Mooresville, N.C., passed away peacefully at his home October 6, 2020.
He was born July 12, 1944, in Tallinn, Estonia. He was preceded in death by his parents, Robert Heinrich Malberg and Gertrud Martin Malberg, and his nephew, Peter Alexander Malberg. He is survived by his wife of 53 years, Norka E. Malberg; his twin brother Peter; his children, Norka Trudy, Melixa and Tommy and their spouses. He also leaves behind four grandsons, Luis Tomas Nario, Sebastian Nario, Andre Malberg and Aaron Malberg,
Tomas was born next to the Baltic Sea and his heart was always happiest when close to the sound of the ocean. He was proud of his Estonian origins, but also held close to his heart his adoptive lands. He loved to tell his grandchildren of his adventures as a boy scout in Venezuela and remembered fondly his youth in Puerto Rico accompanied by a good whiskey and the sounds of a good bolero. He was a man who lived by the rules but also knew how to love, live and work as his favorite Frank Sinatra song says: "My way."
His thirst for knowledge was evidenced by obtaining his MBA at the age of 50 and multiple charts tracing the state of the economy in his very organized home office. His resilience in the face of adversity was truly admirable. When life threw him a curve ball, he caught it and defiantly moved forward, even when one could tell his heart might be broken. Like a proud Viking he continued on, even after receiving the news that he had a rare and incurable cancer, he replied: "We will see about that!"
He will remembered for always keeping in mind other's hearts and feelings over his own. He will remain an inspiration to his family and those who were lucky enough to call him their friend. Faithful, dutiful, loving and always by the book, that was Tomas Malberg, also known as Apo, Dad and Tom.
In the end, although he traveled extensively throughout his life, he ended his days in the place he loved the most, his home, close to his loving wife and his family. He lived and died with dignity and grace and always surrounded by so much love! We will all miss him very much, until we meet again!
Tomas' wish was to be cremated and his ashes be scattered in Boquerón, Puerto Rico, a special beach where he enjoyed many wonderful memories with his family.
Cavin-Cook Funeral Home & Crematory, Mooresville, is serving the Malberg family.