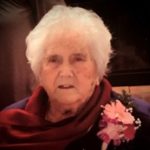 Virgie Mae St. John Redmond of Statesville, N.C., has gone home to be with the Lord she loves after a 100-year journey. She passed away January 24, 2020, at Autumn Care in Statesville. She was born to David and Josie Mahaffey St. John on February 12, 1919, in Wilkes County. She was preceded in death by her parents; her loving husband of 60 years, Mott Sommers Redmond; her daughter Martha Ellen Redmond; her son David Marshall Redmond; her daughter-in-law, Diane Redmond, wife of Donald; her brothers Larry St. John and Lester St. John; and her sister Artie St. John Holland, and Frank Pestlin, whom she wed after Mott's passing.
She is survived by her son, Donald R. Redmond; daughter, Becky R. Hager; daughter-in-law, Annette S. Redmond, wife of Marshall; her grandchildren, Carrie (Eddie) Cornatzer, Tony (Jean) Redmond, Lenora (Donnie) Beaver, Amanda (Joel) Hawkins, David Marshall Redmond Jr., Leigh Ellen Redmond, and Benjamin (Madeline) Redmond; 14 great-grandchildren, and one great-great-grandchild.
She was ordained as a minister in the late 1940s and founded Oak Grove Church, which is now New Life Community Baptist Church. Later, she became a member of Grassy Knob Baptist Church, where she sang in the choir, was an encourager to youth, and enjoyed teaching kids about life on the farm.
Virgie and Mott owned their own farm where they plowed, planted, and cultivated crops such as corn, cotton, and tobacco. They owned and operated their own dairy, M. S. Redmond Dairy, for 60 years. Virgie loved to cook. There was not a visitor around at lunch that did not get an invitation to her table. Even in her later years, she worked in her flower garden and vegetable garden. Her favorite flowers to grow were gladiolas and hibiscus.
She was known to can and freeze the vegetables and share them with friends and family. Virgie was featured in the book, "Mama Learned Us to Work: Farm Women in the New South" by Lu Ann Jones, a historian who became her friend. The following excerpt summarizes Virgie's life and lessons she learned from her mother: "Josie St. John demanded no more labor from her children than she demanded from herself. In hindsight, Virgie Redmond could express only gratitude for a mother who had taught her the value and necessity of work. Time and again, her narrative returned to a familiar refrain. 'Mama learned us to work,' she said, 'that's what she done. She learned us to work.' "
A very special thank you to the caregivers that touched Virgie's life in her final years.
The family will receive friends Sunday evening, January 26, from 6 to 8 p.m. at Nicholson Funeral Home in Statesville. The funeral service will be held at Grassy Knob Baptist Church at 11 a.m. on Monday, January 27, with a graveside service to follow.
In lieu of flowers, the family request memorials be made to Hospice of Iredell County, 2341 Simonton Road, Statesville, NC 28625.
Nicholson Funeral Home is honored to be serving the Redmond Family.