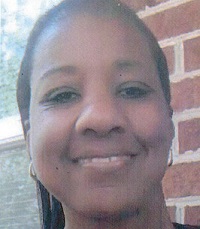 Ms. Wanda Pernelle McClelland, 48, was born in Iredell County on February 20, 1972, and was the daughter of Lena Mae White McClelland and the late Floyd McClelland Sr. She departed this life on Monday, March 9, 2020, at Gordon Hospice House following an extended illness.
She was a graduate of Statesville High School, Class of 1990, and was employed by John Boyle – Glen Raven for over 16½ years until she became disabled. She became a member of Refuge Church of God in Statesville in June of 2018 under the leadership of Pastor Sadie Campbell. She loved to work on anything that was fixable around the house. Her willingness and compassion to help others will certainly be missed. She enjoyed life and did not allow her illness to define who she was as a person. There were two things that she loved the most, her family and The Lord Jesus Christ. She was the type of person who saw the good in everyone and always wanted to remain humble and positive. Her ultimate goal was to live her life knowing she lived the faith and expected her children and grandchildren to be productive citizens in this world and be prosperous.
In addition to her father, Floyd McClelland Sr., she was preceded in death by sisters, Angela McClelland and Diane McClelland; grandparents, Lex White, and Harvey and Lular Mae Hairston McClelland; and a sister, Mattie Stowe McClelland.
Nana, as she was affectionately called by her family, leaves to cherish the memory of her life in addition to her mother, Lena Mae White McClelland, three children, Tanya and Marketta McClelland, both of Statesville, and Marquise McClelland of Charlotte; two brothers, Floyd McClelland Jr. and Bernard McClelland, both of Statesville; one sister, Michelle McClelland of Statesville; her grandchildren, Jamari, Jaivion, Ahmire, Lynn Jr. "Lj", Airianna "Diamond," Lyniah; her nieces and nephews, Kelli, April, Dasia, Jermaine, and Rasheed McClelland, Justin Scott Ponce, Sa'Dreama Beaity, and Kiara and Justice Roseboro; a full host of aunts, uncles, cousins, other relatives, the Refuge Church of God Church family, neighbors, and friends.
In tears we saw you sinking, and watched you fade away
Our hearts were almost broken, because we wanted you to stay
But when we saw you sleeping, so peacefully and free from pain
How could we wish you back with us to suffer that again.
It breaks our hearts to lose you, but you did not go alone,
For part of us went with you, the day God call you home.
Celebration of Life Services will be conducted Monday, March 16, 2020, at 12 p.m. at Refuge Church of God in Statesville. Pastor Sadie Campbell will officiate and burial will follow in the Iredell Memorial Park. Ms. McClelland will remain at Rutledge and Bigham Funeral Home until taken to the church to lie in state at 10:30 a.m. Members of the family will receive friends at the church from 11 a.m. until 12 p.m., but will assemble at the residence at other times.
Visit the Book of Memories for Ms. McClelland at www.rutledgeandbigham.com. Rutledge and Bigham Funeral Home is serving the family of Wanda P. McClelland.