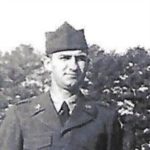 William Carrol Daniels, 85, of Harmony, N.C., died Monday, June 29, 2020, at Autumn Care.
He was born in Iredell County on October 1, 1934, to the late William S. Daniels. Sr. and Pearl Smith Daniels. Carrol was also preceded in death by his twin brother, Harold Daniels; another brother, Clifton Daniels; and a sister, Helen Seahase.
Carroll served in the U.S. Army and retired from truck driving after 50 years. Fishing was one of his favorite hobbies. He enjoyed inventing things and spent time drawing up plans and building those items. He enjoyed looking at "rocks" and hunting emeralds and other precious stones.
Those left to cherish his memory are his wife of 64 years, Evelyn Ann Pierce Daniels; a son, Roger Daniels (Judy) of Harmony; two daughters, Susan Head (Jim) of Troutman and Lori Sweeney (Pat) of Statesville; a sister, Melba Ciconte; and numerous grandchildren, great-grandchildren and nephews.
A Graveside Service will be held Wednesday, July 1, 2020, at 11 a.m. at Holly Springs Baptist Church Cemetery with Dr. Cliff Gwaltney and Rev. Glenn Belcher officiating.
Memorials may be made to Holly Springs Baptist Church Cemetery Fund, 355 Houstonville Road W, Harmony, NC 28634.
Fond memories and condolences may be left at www.nicholsonfunerals.com. Nicholson Funeral Home is serving the family.