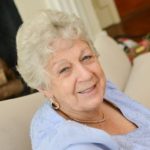 Mrs. Wanda Hayes Haughton, 79, of Troutman, N.C., joined her husband in heaven on Saturday, June 27, 2020.
Wanda was born January 19, 1941, in Shelby, N.C., and was the daughter of the late Joseph Hoyt Hayes and Mary Sue Ledford Hayes. She was a graduate of Myers Park High School and on December 13, 1969, she married the love of her life, Paul Foster Haughton Sr., who passed away April 12, 2020.
Left to cherish her memory are her children, Rex Haughton (Caroline) and Maria Haughton Roberson (Kevin), all of Troutman, N.C. Additionally, she is survived by her step-children, Cory Haughton (Susan) of Chattanooga, Tenn., Beth Painter (Ray) of Chattanooga, Tenn., Paul F. Haughton Jr. of King George, Va., Julia Haughton-Baldridge (Keith) of Nashville, Tenn.; her daughter-in-law, Harriet Haughton of Auburn, Ala., her 19 grandchildren, 20 great grandchildren, her sister, Dianne Thackerson of Shelby, N.C. and her brother, Robert Hayes Sr. of Shelby, N.C., as well as many nieces, nephews, cousins and friends.
She loved flowers and making arrangements from the ones in her yard. From childhood, she had compassion for animals and fed any that came into her yard or to her pier. Her pets were part of her family and she loved them all dearly. She was obsessed with butterflies.
Wanda was an exceptional cook known for her delicious banana pudding with its secret ingredient and always having something good to eat in the refrigerator. Her welcoming spirit and good food made her home a place that her children's friends often referred to as their second home. She always had great advice and a calming spirit that came from her love of Jesus Christ.
To say that she was the best wife, mother and grandmother would be an understatement. She adored her grandchildren, and great grandchildren. Her entire family was shocked when we learned of her cancer diagnosis and our peace comes in knowing that she has been reunited with her husband in heaven
Graveside funeral services will be held at 11 a.m. on Thursday, July 2, 2020, in the New Perth ARP Church Cemetery.
In lieu of flowers, memorials may be made to the Lake Norman Humane, P.O. Box 3937, Mooresville, NC 28117 or www.lakenormanhumane.org. Online condolences may be made to the family at www.troutmanfuneralhome.com.
Troutman Funeral Home is serving the family.