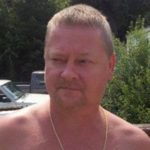 William "Craig" Turman, 51, of Mooresville, N.C., passed away on February 24, 2020, at his residence.
Born March 2, 1968, in Mooresville, he is the son of Avis Floretta Nichols and the late Bobby James Turman. He was the youngest of eight siblings. William, better known as Craig, was a very genuine, loving soul. He was best known for being a loving father. He's made significant marks in the lives of others and will be held highly in memory forever.
In addition to his father, he was preceded in death by his brother Danny Overcash.
He is survived by his mother; two sons, Kevin Turman and Jacob Turman; brothers, Robert Turman and Jeffrey Turman; sisters, Linda Estes, Brenda Mack, Sharon Washam, and Barbara Wood; and two grandchildren.
The memorial service will be private for the family.
Cavin-Cook Funeral Home & Crematory, Mooresville, is serving the family of Mr. Turman. Condolences may be made to the family at www.cavin-cook.com.