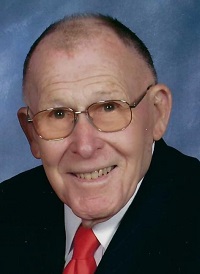 William Dalton "Bill" Holland, 95, of Statesville, N.C., passed away on Monday, April 13, 2020 at Iredell Memorial Hospital.
Born December 31, 1924, in Statesville, he was the son of the late Stamey Jones Holland Sr. and Neva McLellan Holland. In addition to his parents, he was also preceded in death by his wife, Sonya Morrow Holland, who passed away on February 2, 2014.
Bill's education spanned many years. He was a graduate of Statesville High School – Class of 1941. He also attended and graduated from Mitchell Community College, The University of North Carolina – Chapel Hill, The University of Oklahoma, New York University Graduate School of Business Administration, The University of North Carolina – Charlotte, and the American Institute of Real Estate Appraisers. From his desire to continue his education, he was also a student at Harvard Business College, Tulane University, Henry George School and Queens College in Charlotte.
Bill joined the United States Navy in 1942. He began active duty on July 1, 1943, and served until 1946, serving in the Pacific Theater during WWII. He attended Navy Supply Corps School Bayonne in Boston from February to August 1944, given rank "ENSIGN" and eventually promoted to Lieutenant J.G.
His first job, at the age of 16, was delivering telegrams with Western Union. During the summer of 1942, he was at Turner Manufacturing Company. He was co-founder of Holland Realty and Mortgage Company and later was owner and operator of Bill Holland Realty, and was known as "Mr. Bill." He was a real estate developer in the City of Statesville and Iredell County.
Bill was a member of Monticello United Methodist Church. In the last several years, he attended Beulah Baptist Church, where he was baptized on November 20, 2016 at the age of 92.
Bill was a soft-spoken man of few words who was very well-known and respected by many around town. From a young age, Bill had a passion for traveling that continued throughout his adult life, as he traveled the world with his camera in tow! Bill loved to share his knowledge with others and never lost his desire for further education.
William "W.D." Holland will be missed by many. The family extends their heartfelt thanks to Sandra Davidson and Ruth Williams.
Family left to cherish his memory are his brother, Stamey Jones Holland Jr.; Stamey Jones Holland III, Martha Holland and LouAnn Dyson.
Bill will lie in state at Bunch-Johnson Funeral Home on Thursday, April 16, 2020, and Friday, April 17, 2020, from 9 a.m. to 4 p.m. A private graveside service will be held Saturday, April 18, 2020 at Oakwood Cemetery. The Rev. Raymond Hamrick and Rev. Brian Burgess will officiate the service.
The family will gather at the residence of Gary and LouAnn Dyson.
Memorial donations may be made to Beulah Baptist Church, 1851 Old Mountain Road Statesville, NC 28677 or Monticello United Methodist Church, 308 Island Ford Road, Statesville, NC 28625.
Those wishing to leave an online condolence may do so at www.bunchjohnsonfuneralhome.com.
Bunch-Johnson Funeral Home is honored to be serving the Holland family.