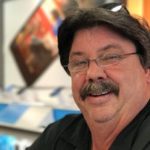 Thomas Daniel "Dan" Stump, 56, of Mooresville, N.C., passed away on Saturday, April 11, 2020.
Born January 15, 1964, to Dan Stump Sr. and the late Judith Lanning Griffith in Iredell County, N.C., Dan grew to become a fun-loving man with a heart bigger than he was. He gave everything he could to his people and his community. His love knew no bounds. As a dedicated employee of 20-plus years at Randy Marion Automotive in Mooresville, he formed bonds with people from all walks of life and worked hard to provide for his family. Dan was a man of God and loved The Cove Church in Mooresville. He attended weekly and gave abundantly. He began each morning with a cup of coffee and a talk with God on his front porch to pray for those he loved dearly.
Beyond God and giving, Danny was a man who loved Sunday Fundays with his beautiful wife Kim, working in the yard, listening to classic rock, supporting the teachers and dancers of The Academy of Dance and Fine Arts, rooting for the Carolina Panthers as an original PSL owner, and generally living life to the fullest.
Dan is survived by his wife, Kimberly Gibbs; son Daniel Stump and fiance Krystal Everwine; daughter Lauren Gibbs and partner Omar Benyounes; special "daughter" Tonya Chapman; mother-in-law Brenda Goodin; and his beloved furry friends, Twyla, Maxwell, and Izzybell.
A celebration of Dan's life will be held at a date to be determined when all can come together to celebrate a man who touched us all and is worthy of a large gathering of love and mourning.
In lieu of flowers, a donation of food or money may be made to The Cove Church Food Pantry, 197 Langtree Road, Mooresville, NC, 28117.
Condolences may be made to Dan's family through Cavin-Cook Funeral Home & Crematory, Mooresville at www.cavin-cook.com.