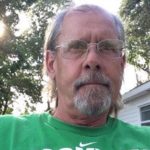 William Joseph "Bill" Mottinger, 64, of Statesville, N.C., passed away June 15, 2020, at Iredell Memorial Hospital.
He was born November 17, 1955 in Flint, Mich., the son of the late Edward Clark Mottinger and Margaret Hively Mottinger.
Bill enjoyed spending time in Love Valley, N.C., and most of all he loved spending time with his family and friends.
Left to cherish his memory are his brothers, Edward Clark Mottinger Jr. and wife Anne, Ralph Mottinger and wife Janet, and Clater Mottinger and Mark Mottinger; sisters, Caroline Mottinger, Jackie Mottinger Wetter, Meg Mottinger and Sara Mottinger Mills; numerous nieces and nephews and other loving family and friends.
A private service will be held at a later date. In lieu of flowers memorials may be made to the charity of one's choice.
Please share memories and condolences with the family at www.nicholsonfunerals.com.
Nicholson Funeral Home is serving the family.