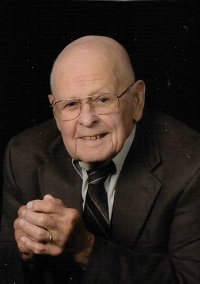 Mr. William Kelly Miller, 91, of Troutman, N.C., passed away unexpectedly at his home on July 29, 2020.
Mr. Miller was born December 7, 1928 in Troutman, and was the son of the late Roscoe Jack and Janie Wagner Miller. He was a graduate of Troutman High School, served in the U.S. Army and was married to the late Shirley Ann Sipes Miller, who passed away on August 8, 2017. He was a member of First United Methodist Church of Troutman and was previously a Commander of the American Legion Post 401 in Troutman. He worked for Honeycutt Gulf Station, Superior Dairies, Rubbermaid and was retired from Toter Inc.
He is survived by three sons, Richard Miller (Kim) of Gainesville, Ga., John Kim Miller (Debra) of Harmony, and Jody Miller (Susie) of Troutman; 12 grandchildren, numerous great grandchildren and two great great grandchildren.
In addition to his wife and parents, he was preceded in death by one brother, Edward Miller.
Graveside funeral services will be held at 10 a.m. on Tuesday, August 4, 2020, in Oakwood Cemetery with Rev. Jeff Hamrick officiating. Full military honors will be provided.
Memorials may be made to American Legion Post 401, 304 S Main Street, Troutman, NC 28166 and online condolences may be made to the family at www.troutmanfuneralhome.com.
Troutman Funeral Home is serving the family.