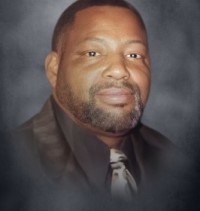 William Lee Smith Sr. was born September 1, 1962, and passed away December 25, 2020, making his stay on earth 58 years. He was the son of the late Robert Lee Smith and Bertha Pool Smith.
He was fondly called "Punkin." He learned as young boy how to work hard from his father. William was a respectful, genuine loving man, who never met a stranger. "Punkin" had "blessed" hands and was talented in construction and carpentry work. Many houses and homes have been blessed from the artwork, building, and creativity of his handiwork. He worked for many construction companies, and for a number of years had his own carpentry business. His family, community members, and friends will miss the great handiwork and talent he provided.
William was a Christian. He was a member, as a young man, of Highland Acres Church of Christ, and then in 1999 joined Faith Tabernacle Holy Church of God under the leadership of Bishop Ethelene B. Bryan. At FTHC, William built steps up to the church attic, installed an upstairs bathroom, upgraded the downstairs fellowship hall, and assisted with other construction and maintenance duties. He was active with leading devotion and heartfelt prayers.
"Punkin" was preceded in death by two brothers, Tommy Lee Gray and James Lee Smith, and two sisters, Jimmie Lou Brown and Georgia Parsons.
William leaves to cherish his life his baby daughter, Hannah E. Smith of Statesville, N.C.; daughter, Kiahisha Smith of Statesville; son, Billy (Kate) Smith of Denver, Colo.; a sister Gloria (James) Jackson of Statesville; brothers, Vinson (Maria) Smith of Statesville and Jimmie Lee (Terry) Smith of Stony Point, N.C.; a sister Melanie; brothers Hank and Keith (Jennifer) Lawrence, all of Statesville; Melba Smith of New York; two grandchildren, Elijah Morrison and Ta'Hannah Morrison, and loving friend Seprena Vanderburg.
Graveside Celebration Services will be conducted on Wednesday, December 30, 2020, at 1 p.m., at Belmont Cemetery, Statesville, with Pastor James Jackson will officiate.
There will be no public visitation due to COVID-19. Rutledge and Bigham Funeral Home, along with other funeral homes across the country, has been issued a mandate to limit the number of family and/or friends at funeral services. You can only enter the funeral with a funeral pass, which will be given to the family.
General public viewing will be held on Tuesday, December 29, 2020, from 3 until 6 p.m. and resume Wednesday, December 30, from 9 a.m. to 12 noon. You can also view Mr. Smith's remains virtually on-line at www.youtube.com. (Search William Smith Viewing.)
Visit the Book of Memories for William Smith at www.rutledgeandbigham.com. Rutledge and Bigham Funeral Home is serving the Smith Family.