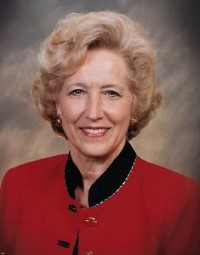 Louise Sigmon Hunter, 83, went peacefully into the arms of her Lord and Savior on Monday, December 28, 2020, after a courageous battle with a lengthy illness.
Louise was born on January 19, 1937, in Newton, N.C., to George Andrew and Edna Moretz Sigmon. She graduated from Newton High School and was Queen of the Old Soldier's Reunion. She earned a Bachelor of Science in Home Economics from the Women's College in Greensboro, N.C., graduating Summa Cum Laude.
Louise was born with many talents, including playing the piano by ear, a talent she joyfully shared throughout the years. Her passion for music began at a very young age. Her family loved hymns and she, her four brothers and parents spent many hours around the piano singing and worshipping.
Louise married Edwin Hunter of Statesville, N.C., on March 29, 1959, and their 61 years of Christian marriage was filled with deep, faithful love for each other. They built their lives together around their children and their spouses, nine grandchildren and eleven great-grandchildren. She was devoted to her husband and family and taught them by example how to live a life centered on service, grace and love. Beloved as Nana, she felt very privileged to enjoy and care for each of them and looked forward to every moment she spent with them in Statesville and on their many travel adventures. Holidays with Nana and Granddaddy were magical and highlights throughout everyone's year. Her tremendous heart and love for the Lord were blessings. The many lessons she taught in the way she lived will be cherished and remembered.
Louise had a servant's heart. She was a faithful believer in Jesus Christ and was actively involved in First Baptist Church, Statesville, N.C. She was a Deacon, Sunday School teacher, Children's Choir leader and piano player, led Girl's in Action, was a member of the Handbell Choir, and a VBS worker known for making the best lemonade ever! She served on the following committees: Building, Caring, Floral, and Ladies Thursday. She supported state, local and foreign missions. She willingly served in all areas as needed. Her passion for the Word of God led her to join Bible Study Fellowship which she attended faithfully.
In addition, Louise was very civic minded. She served on the Chamber of Commerce and was part of the Ambassadors Club, School PTA, Girl Scout Leader, Garden Club, serving as President, Beta Sigma Phi Sorority and a Board Member of the following: UNC Lineberger Cancer Institute, Mitchell College Endowment, Fort Dobbs, Art in Bloom, The Sharpe House, Iredell Museums, Salvation Army, and the Heart Fund.
Louise's work ethic was unrivaled, and she truly applied Colossians 3:23 ("working with all of her heart as working for the Lord") in all areas of her life. She worked during their first years of marriage as a Home Economist for SC Electric and Gas in Columbia, S.C. They moved briefly to Florida before moving to Statesville for Edwin to manage Hunter Manufacturing. She taught piano for many years. Several years later Edwin opened a Real Estate office and Louise worked alongside him as a Realtor.
Louise never met a stranger. Her sweet smile warmed all those she encountered, and her kind and welcoming demeanor were ever present. Louise left a positive impact wherever she went. She loved her friends dearly and was loved in return by them. She was an exceptional cook and served countless meals of Christian hospitality in their home as well as delivered them all over Iredell County.
In addition, Louise loved entertaining, working in her garden, floral arranging, playing bridge in several clubs, challenging sermons, beautiful music, long walks on the beach gathering shells, and needlepoint. She enjoyed the beach, lake, mountains, the farm and travel. She was an avid Tar Heels basketball fan. Her impeccable style and flare for decorating were also among her many talents. She had many spiritual gifts including exhortation, faith, love, service, and hospitality. She was a true example of a Proverbs 31 lady.
She is survived by her husband, James Edwin Hunter Sr.; daughters Elizabeth Hunter Jordan (Art) and Ellen Hunter Jordan (Thomas), and their son James Edwin Hunter Jr (Jan); her grandchildren, Patricia Jordan Fast (Brian), Courtney Jordan Hillman (Chris), Arthur Buist Jordan V (Meghan), Thomas Myers Jordan Jr. (Emily), Edwin Hunter Jordan (Reagan), James Patrick Hunter (Katie), Madison James Jordan (Maddie), Edward Andrew Hunter (Leanna), and Louisa Elizabeth Hunter; and 11 great-grandchildren. She is also survived by several sisters-in-law, a host of nieces, nephews, and their families whom she dearly loved.
Louise was preceded in death by her parents, George Andrew Sigmon and Edna Moretz Sigmon; and her brothers, Daniel Edward Sigmon, James Andrew Sigmon, Charles Ernest Sigmon, and Harold Alfred Sigmon.
In lieu of flowers, memorials can be made to First Baptist Church, 815 Davie Avenue, Statesville, NC 28677, or Hospice and Palliative Care of Iredell County, 2347 Simonton Road, Statesville, NC 28625, two ministries that were special to Louise.
The family would like to thank the incredible staff and caretakers at The Gordon Hospice House in Statesville. We are also thankful for the many compassionate caregivers who loved Louise throughout her illness.
Louise's love for the Lord, passion for life, and lavish love will continue to live in the hearts of all those who were blessed to know her. Our family was so thankful to witness her deep abiding faith in The Triune God. We are so blessed to have loved and been loved by her and to watch the deep love she and Edwin shared. We praise the Lord for her life and legacy. Mostly we praise that she is a child of the King of Kings and she finished her race with perseverance and has entered The Lord's Eternal Presence in her Heavenly Home.
Online condolences may be made to the family at www.troutmanfuneralhome.com
Troutman Funeral Home is serving the family.