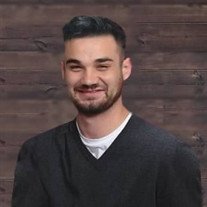 Zachary "Zac" Speicher, 26, passed away on Friday, September 4, 2020.
He was born April 28, 1994, in Mooresville, N.C., to Keith and Amy Lewis Speicher. Zac was a 2012 graduate of Pine Lake Preparatory School. He was Vice President of Acclaim Restoration and Project Manager of ACE Restoration Pros.
Zac had such an unforgettable smile and laugh. He had a larger than life magnetic personality and would make friends everywhere he went. He had such an entrepreneurial spirit and was always eager to help anyone in need. He loved his friends and family and most of all his sweet beautiful daughter Carmen Aurelia.
Zac was preceded in death by his maternal grandmother, Aurealia Mills Lewis, and paternal grandparents, Fred and June Speicher.
In addition to his parents, Keith and Amy, he is survived by his daughter, Carmen Migliaccio; brother, Andrew Speicher; sister, Mikayla Bush (Tyler); maternal grandfather, Barry Lewis; nieces, Jordan Bettwy (Bix) and Abbey King (Josh); and aunts and uncles, Beth Lewis, Beth Spoon (Page), Scott Speicher (Delia), and Dale Speicher (Cori).
There will be a visitation on Sunday, September 13, from 2 to 4 p.m. at the Heritage House Cavin-Cook Funeral Home.
In lieu of flowers, the family would ask donations be made to Zac's daughter Carmen either through the family or electronically to email address CarmenAureliaFund@gmail.com.
Cavin-Cook Funeral Home & Crematory, Mooresville, is serving Zac's family. Condolences may be made to the family at www.cavin-cook.com.