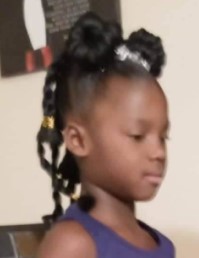 Ah'Miyahh Anyae Marie Howell, 8, beloved daughter of Tiatana Lenshay (Michael Gavin) Howell and Devin (Ta'Shombe Smith) Emanuel Rankin, was born in Iredell County on December 22, 2012. She departed this life unexpectedly on Monday, June 28, 2021.
She completed the second grade at Parkview Elementary School in Mooresville and attended the Cove Church. She loved TikTok. She was a loving daughter, sister, cousin, granddaughter, great granddaughter, and friend. She was preceded in death by a grandfather, James Woodrow Rankin, and Eula Swift.
She leaves to remember her life her mother, Tiatana L. Howell of the home; her father, Devin Emanuel Rankin of Statesville; her brothers, Shamiir Tre'Mayne Miller and Emanuel Jayce Smith; a step-brother, Demarien Moten; aunts and uncles, Taquez Howell, Taquan Howell, Tymere Howell, Tayiyah Brooks, and Bella Holland; her grandmother, Kendalen Howell of the home; her grandfather, Christopher Hargrove of Statesville; her grandparents, Terry Hargrove, Latitia Ann Rankin, Danny Eugene Sturgis, Gloria Ann Rankin, and Gary Lynn Turner; great grandparents, Randy Allison, Penny (Verano) Kimbrough and Eric C. (Julie) Howell, Oscar Sturgis and Agnes Sturgis Danielle Rankin, Davonta Rankin, Danny Rankin, Davion Rankin; great aunts and great uncles including, Robin (Keir) Lindsay, Erica (LaDarius) Vanderburg, Candra Howell, Sasha Howell, Laquima Howell, Shanita Howell, Kayla Howell, Dontae Reid, Amiera Lee; Sandra Bellamy, and Virginia Dobbins; great great aunt, Josephine (Brian) Jones; special friend, Ahoneste Burke; and cousins, Destiny Rankin, Brielle Turner, Aubrey Simpson, Kayden Anderson, Joyce Noah Thompson; and other relatives and friends.
Celebration of Life Services will be conducted Saturday, July 3, 2021, at 2 p.m. at The Cove Church. Pastor Doris Allison will officiate and Pastor Michael Turner will eulogize with entombment follow in the Iredell Memorial Park.
Ah'Miyahh will remain at Rutledge and Bigham Funeral Home until taken to the church to lie in state at 1 p.m. Members of the family will receive friends at the church from 1 until 1:30 p.m. A Special Presentation will be held from 1:30 until 2:00 p.m.
Visit the Book of Memories for Ah'Miyahh at www.rutledgeandbigham.com.
Rutledge and Bigham Funeral Home is serving the Howell Family.