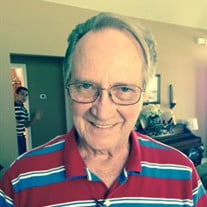 Alan Clark Eakin, Christ Follower, Servant of the lord, Pastor and Architect took is last breath and started is journey to Heaven on September 3, 2021.
Alan was born in Apollo, Pa., on March 31, 1941, to Parents James and Cora Eakin (predeceased).
He is survived by his wife of 51 years, Laddy Eakin; his children, Kimberly Eakin, Alan James Eakin, Elaine Eakin (Rosenquist) and Aaron Eakin; and brothers, Alvin Eakin and David Eakin, along with predeceased brother Gary Eakin. Alan is also survived by four grandchildren, Shaylin Rosenquist (Finch), Shaun Rosenquist, Christina Rosenquist and Michelle Schechter; and great grandchildren Ava Finch, Cohen Finch and Erikka Douglas.
Alan was a devoted Husband, Father and Friend. He was a god-fearing man who walked the walk of the Lord and shared the word with whoever would listen. His passion for music gave the ability to self-teach his amazing talent of playing the guitar as well as piano and many other instruments.
Alan was an amazing artist from designing in homes, building plans, home inspections to the simple artistry of drawing on a napkin to entertain his kids on a family night dinner. Alan was unique with his one green eye and one blue eye to being able to write and draw with both his right and left hand and he had the most beautiful penmanship.
Alan traveled all over with his music in his early years and later years in missions and ministries like Wings of Faith.
His ability to forgive and see the positive in all things was a gift from his faith and knowing we are all brothers and sisters in Christ's eyes.
A Celebration of life and fellowship will be held on September 18, 2021, at 2 p.m. at Grace Covenant Church, 17301 Statesville Road, NC 28031.
Flowers and condolences may be offered at 135 Pleasant Grove Lane, Mooresville, NC 28115.
Cavin-Cook Funeral Home & Crematory, Mooresville, is serving the family. Condolences may be made to the family at www.cavin-cook.com.