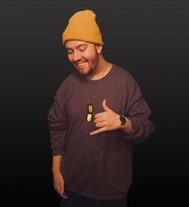 Alexander Blake Beaver, 22, of Statesville, N.C., went to be home with Jesus on Sunday, February 14, 2021, surrounded by his family at Wake Forest University Baptist Medical Center. He was born in Iredell County on August 25, 1998, to Mike and Sherwyn Ayers Beaver.
Blake was a graduate of West Iredell High School and a member of Front Street Baptist Church. He is known for his deep conversation, and memorable laughs. But most importantly, he is remembered for his love. He loved like Jesus — selflessly and boldly. Broken people were his passion. He lived out authentic faith through honest art and music.
In addition to his parents, Mike and Sherwyn, Blake is survived by his sister, Michaela B. Sanchez, brother-in-law Jose Sanchez, and his nephew David Alexander Sanchez. He is also survived by his paternal grandparents, Jerry and Hilda Beaver; maternal grandmother Sherry Ayers; and maternal grandfather, Tommy Ayers (Kathryn). He is further survived by his first cousin, Rebecca Ayers, and a host of aunts, uncles, and other extended family.
A service to celebrate the life of Blake Beaver will be conducted at 11 a.m. Wednesday, February 17, 2021, at Front Street Baptist Church with Rev. Tim Stutts officiating. At the request of Blake, there will be no formal visitation. Honorary pallbearers will be "The Posse," Kezlan Johnson, Aaron Bost, Trent Harris, Jacob Moore, and Ivan Callejas.
In lieu of flowers, memorials may be made to the Front Street Baptist Church Food Ministry, c/o the South Yadkin Baptist Association, 3009 Amity Hill Road, Statesville, NC 28677.
Nicholson Funeral Home is serving the family.