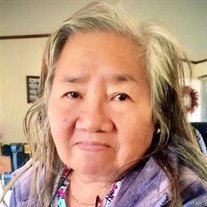 Josefina Militar Paz, 80, of Statesville, N.C., died Saturday, February 13, 2021, at Iredell Memorial Hospital. She was born in Pangasinan, Philippines, on February 17, 1940, to the late Honofre Militar and Petrosina Mirador.
Josefina was a homemaker and stay-at-home mother. Even though she was strict, she was very caring and always looked out for her family, and she was a great mother. She enjoyed both flower and vegetable gardening. She collected orchids and loved animals.
Survivors include her husband of 56 years, Edmundo Paz; a son, Michael Angelo Militar Paz (Cameron Wood); a daughter, Maria Theresa Paz Stanley (William); two grandsons, Miles Stanley and Dylan Stanley; and other family members.
A Graveside Service will be held Saturday, February 20, 2021, at 12 noon at Iredell Memorial Gardens with Pastor Rik Hamrick officiating. The family will gather and receive friends from 9:30 to 11:30 a.m. on Saturday at Nicholson Funeral Home.
Nicholson Funeral Home is serving the family.