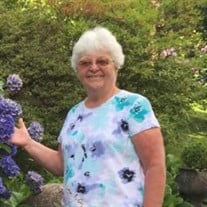 Alice Ann Simpson King, 77, passed away peacefully on Monday May 31, 2021, surrounded by the comfort and love of her children at the Gordon Hospice House in Statesville, N.C.
Born on September 10, 1943 in Buncombe County, N.C., she was the daughter of the late Jo Warren and Wlibur Simpson. Ann was of Baptist faith and a firm believer in our Lord and Savior Jesus Christ.
Ann retired from the North Carolina Public School System, where she worked as a secretary in both Guilford County and Rowan County Schools. Ann enjoyed her time working in this role very much as she loved meeting new people and never turned down the opportunity to help those around her.
Ann enjoyed gardening, and each year she looked forward to the spring season so she could plant flowers. It was part of her nurturing ways to take care of them each day and to help them grow. Ann was a seamstress who spent many hours at her sewing machine. She enjoyed making clothes and small gifts for her family and friends. She was a devoted member of her church group HUGS and worked many hours to create pillows for Hospice patients; just another testament to her loving and caring nature.
She is survived by her four children, Larry Lee Woods Jr. of Stateville (wife Kim Woods), David Patrick Woods of Kershaw (wife Holly Woods), Michael Robert Woods of Burlington (wife Amy Woods), and Barbara Woods Bumgarner of Hickory (husband Andrew Bumgarner); grandchildren, Jordan Woods, Lee Woods, Matthew Woods, Kristen Woods, Tristen Woods, Evan Woods, Zach Woods, Lola Bumgarner and Neela Bumgarner; and great-grandchildren Ada and Macon Woods. She is also survived by her sister, Patsy Warren of Waynesville (husband Richard), her sister Lisa Holt of Asheville (husband Brian), brothers Steve Simpson and Bob Simpson of Asheville, and Gary Simpson of Leicester (wife Karen), and step-mother Kay McLaughlin of Asheville.
Ann was affectionately known as "MawMaw Ann" by her grandchildren. She loved keeping up with the accomplishments and travels of each of them.
To honor the life of Ann King, a service will be held at 2 p.m. on Sunday June 6, 2021, Nicholson Funeral Home home in Statesville, N.C. A small graveside service will be held at Guilford Memorial Park at 2 p.m. on Monday June 7, 2021.
Your may watch the service live at https://view.oneroomstreaming.com/authorise.php?k=1622679315118329
The family would like to express their appreciation for the care she received from the staff at Gordon Hospice House. In lieu of flowers, the family invites you to make memorials to Hospice and Palliative Care 2347 Simonson Road, Statesville NC 28635 or www.hoic.rg.
Nicholson Funeral Home is providing services for the family of Ann King. Online condolences may be made at www.nicholsonfunerals.com.