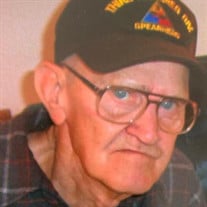 James Vernon Kiser, 90, of Statesville, N.C., passed away peacefully May 30, 2021, at his home surrounded by his family. He was born May 1, 1931 in Dickenson County, Va., one of eleven children and the son of the late Joseph and Nannie Kiser.
He was also preceded in death by his beloved wife, Bessie Kiser.
James served his country honorably in the United States Army and following his service became employed with International Paper. He was a man of faith who loved the Lord, always helped the stray animals that showed up on his door step and was an honorary PawPaw to the neighborhood kids. James loved to make quilts, enjoyed gardening and canning and most of all spending time with his family.
Left to cherish his memory are his son, Roger Kiser and his wife Patsy; sister, Molly Kiser; grandchildren, Tonya Kiser (Drew Brown) and Melissa Murphy (Jimmy); great grandchildren, Shekeya Davidson, Halle Davidson, Emma Thompson, Carter Thompson, Seth Murphy, Emma Murphy and Lily Murphy; canine companion, Bullet; and numerous other loving family and friends.
Family will receive friends from 6 to 8 p.m. on Sunday, June 6, 2021, at Nicholson Funeral Home. A funeral service will be held 11 a.m. on June 7, 2021, at Nicolson Funeral Home in Statesville, N.C. Burial will follow at Iredell Memorial Gardens.
Please share memories and condolences with the family at nicholsonfunerals.com.
Nicholson Funeral Home is serving the family.