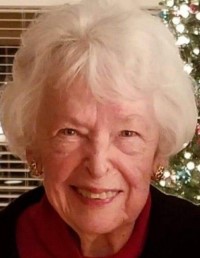 Allison DeNeale Long Hughes of Statesville, N.C., passed away peacefully on Sunday, November 28, 2021.
Allison was born on December 11, 1932, at Long's Sanitorium in Statesville, N.C. She was the daughter of Mary DeNeale McKenzie Long and John Fletcher Long Sr. Her maternal grandparents were Carrie Allison Long and Dr. Henry Fletcher Long, physician and surgeon. She is survived by her brother, John F. Long Jr. of Cary, and her sister, Mary Long Gilbert (Paul).
She was educated within the Iredell County Public School system and graduated from Statesville Senior High School in June of 1951. She entered Salem College and studied there from 1951-1953. Allison transferred to The University of North Carolina at Chapel Hill in 1953.
She graduated in the first class of Dental Hygiene at the University's Dental School in 1955. She also received the first Bachelor of Science Degree in Dental Hygiene that the University conferred. In 1985 she returned to school and earned a Master of Arts degree in community education from Appalachian State University in 1987.
She became a clinical instructor for the UNC Dental School and a supervisor for the first federally sponsored dental assisting pilot program within the school. From 1956 to 1961, she served on the faculty.
In 1961, she became the director and associate professor of the Carruth School of Dental Hygiene at Baylor College of Dentistry in Dallas, Texas. Upon her return to North Carolina, she became an honorary member of the N.C. Dental Hygiene Academy of Advanced Studies. She then acted as Deputy Examiner on the N.C. Board of Dental Examiners for dental hygienists from 1979 to 1980. From 1983 to 1994, she served as the academy's first chairman of the Board of Directors and went on to be re-elected for five two-year terms.
Allison went on to work for Iredell-Statesville Schools as a dental health educator in March of 1976 and retired in December of 1994. Since 1990, she served as a member of the Board of Trustees at Iredell Memorial Hospital. She had also been a volunteer for the hospital since 1995. Additionally, she was elected as the democratic chair of the Chambersburg Precinct in 1990 and 1999.
On September 11, 1953, Allison was presented to North Carolina society at the Terpsichorean Debutante Ball in Raleigh, N.C. She had been a member of the Iredell County Committee of the Colonial Dames from February of 1997 to present. During her membership, she acted as both secretary and chairman.
Allison was also a member of the Fort Dobbs D.A.R. for 54 years. Since joining in 1961, she served as regent, first vice regent, secretary, treasurer, and chaplain. She was also a member of Trinity Episcopal Church in Statesville. She had been a Sunday school teacher and a member of the alter guild.
Allison is survived by her two daughters, DeNeale Hughes York and Allison Hughes Brown; six grandchildren, Jonathan McKenzie York, Allison McKenzie Beard, Jennifer York Matharu, Caroline Snyder Beard, Lewis Patterson Beard Jr., and Christian Pettit York; and two great-grandchildren, Genevieve Eileen and Emilia Allison York.
Funeral services will be conducted at 11 a.m. on Saturday, December 4, at Trinity Episcopal Church with Rev. Brad Mullis officiating. Visitation will be held one hour prior to the service. Burial will follow in Oakwood Cemetery.
In lieu of flowers, memorials can be to Gordon Hospice House or Trinity Episcopal Church.
Troutman Funeral Home is serving the family.