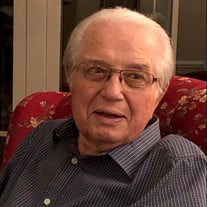 Alvin "Al" D. Gingerich, 86, of Statesville, N.C., passed away peacefully at home early Saturday morning, December 11, 2021. He was born on October 12, 1935, in Hartville, Ohio, to Elizabeth and Daniel Gingerich.
In addition to his parents, he was preceded in death by four sisters, Mary (Simon) Hershberger, Betty (Noah) Hershberger, Sarah Anderson, and Miriam Gingerich; and two brothers, Bill and Joseph.
He is survived by his loving wife of 66 years, Martha Sommers Gingerich. They were blessed with four children, Elaine (Roger) Laughlin of Mogadore, Ohio, Nathan (Diane) Gingerich of Summerfield, N.C., Stanwyn Gingerich of Kernersville, N.C., and Leah Beth (Tad) Taylor of Statesville, N.C. They also have eleven grandchildren, Michael (Ashley) Laughlin, Tiffany (John) Keith, Daniel (Devon) Gingerich, Rachel Gingerich, Sarah (Jordan) Bryant, Kirk Gingerich, Barret Gingerich, Violet (Andrew) Parcha, Summer (Mikel) Collins, Savannah Taylor, and Rebekah Taylor. Al also has two great grandchildren, and three more on the way!
Al is also survived by six siblings, Viola Schlabach, Peter (Pauline) Gingerich, Moses (Miriam) Gingerich, Ruby Stanley, Dan (Mary) Gingerich, and Carolyn Beiler. He was loved and appreciated by many nieces and nephews.
Al loved life and had a passion to share Jesus with everyone he met; he never knew a stranger! The twinkle in his eye, his sense of humor, and his positive outlook in life impacted those around him. He was a giving, loving, and faithful provider for his family. Al was an entrepreneur at heart. His various endeavors included cabinetry, real estate (Century 21 Gingerich Realty in Uniontown, Ohio, and building/developing. He was a master woodworker and could build a house from start to finish but specialized in trim work. Al's greatest undertaking was a commercial project, a church in Hillsborough, N.C. He was an active member of Gideons International for many years.
Burial will be held on Sunday, December 19, 2021, at 1:30 p.m. at Oakwood Cemetery. A Celebration of Life will be held Sunday, December 19, 2021, at 3 p.m. at Cornerstone Church.
In lieu of flowers, memorials made be made to Gideons International.
Nicholson Funeral Home is serving the family.