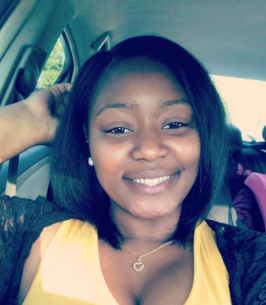 Amari Janae' Wilson, beloved daughter of Amanda Wilson and Jeffery Holmes, was born in Iredell County on October 2, 2000. She departed this life unexpectedly on Monday, February 1, 2021.
She was a 2018 graduate of Statesville High School. She loved her siblings and godchildren, and she loved doing things with family and friends. She loved to make people happy.
She was preceded in death by her great grandparents, Fred Holmes, Francis Harris, Elnora Wilson and Lynn Wilson; great uncle Kevin Myers; uncles, Kenneth Wilson and Steve Wilson; aunts, Teresa Daniels, and Pran Knox; and special cousin, Fred Murdock Jr.
She leaves to cherish the memory of her life her godchildren, Jaceyon Crowder, Assata Ramsuer and Ari'yona Dulin; her mother, Amanda Wilson of Statesville; her father, Jeffery Holmes of Statesville; her godparents, Sharon and Chris Daniels; her brothers and sisters, Daniel Miller Jr., Damiar Savoy and Alivia Caldwell, all of Statesville; godsister, Za'Ryah Dixon; her maternal grandparents, Nina Wilson and Charles Blackwell Sr.; paternal grandparents, Freida Holmes and Jeff Myers; maternal great grandmother, Brenda Blackwell; paternal great grandmother, Sallie Holmes; her uncles, Charles Blackwell Jr., Lester Grady Jr., Stephen Holmes, Jermel Turner, Markus (Natasha) Nixon and Danny Blackwell; paternal great aunts and uncles, John Myers, Micheal Glover, Reginald Darty, Calvin Holmes, Kenny Holmes, Todd Holmes, Tewanna Myers, Karen Harris-Scott (Richard), Johna Myers, Vicky Myers, Selena Harris (Stacey), Cynthia Glover and Francine Glover; maternal great aunts and uncles, Seifullah (Mahasin) El-Amin, Faith Wilson, Iris Murdock, Glynita Wilson, Lillian Tillman (James), Valerie Mayberry (Cecil) and Tana Imes; special men whom helped raise her, Daniel (Scottie) Miller and Nick Caldwell; special friends, Chan'Taieya Dulin, Savonnah Camp, Janasis Brown, De'Aveon Stevenson and Marcus Miller; and a host of nieces, nephews, cousins, other relatives, neighbors and dear friends.
Celebration of Life Services will be conducted Tuesday, February 9, 2021, at 2 p.m. at Rutledge and Bigham Funeral Home, 603 South Center Street, Statesville, NC 28677. Reverend Dale Gibson will officiate and burial will follow in the Belmont Cemetery in Statesville.
There will be no public visitation; however, general public viewing will be held on Monday, February 8, 2021 ,until 7 p.m. and resume Tuesday from 10 a.m. until 12 noon prior to the service.
Unfortunately, during the COVID-19 pandemic, Rutledge and Bigham Funeral Home, along with other funeral homes across the country, has have been issued a mandate to limit the number of family and/or friends at funeral services. You can only enter the funeral with a funeral pass, which will be given to the family.
Rutledge and Bigham Funeral Home is serving the family.