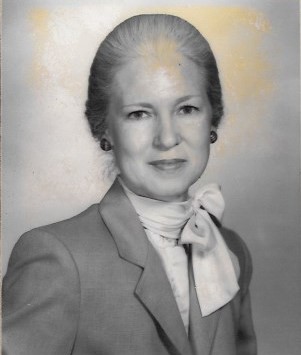 Ann Webb Taylor Kelly, 87, of Statesville and Winston-Salem, N.C., passed away peacefully on Tuesday, August 10, 2021 at Bermuda Village in Bermuda Run, N.C. Ann was born in Durham, N.C., on April 20, 1934, the first child of the late Reverend Doctor Ralph Henderson Taylor and Violet Turner Taylor. As the daughter of a Methodist minister, Ann grew up moving from city to city throughout the Piedmont and western areas of North Carolina as her father served various churches in the Methodist itinerant system. She had three loving siblings and the Taylor household was lively and warm. Ann was five when her sister Linda was born, so lovely, sweet and kind. Ann was 10 when the twins, Becky and Bill, were born, both delightful, smart, and full of energy. Ann learned at an early age the responsibilities of caring for her youngest siblings, helping to rear them, as her parents were both active in and dedicated to the congregations and missions of their churches.
Ann graduated from Albemarle High School in 1951. She attended Greensboro College and graduated in 1955 with a Bachelor of Arts in English and a Minor in Speech. Ann excelled and loved her time at Greensboro College. She was very active in all facets of campus life and found her delight and success in drama. Ann was elected May Queen during her senior year and attended the Azalea Festival in Wilmington, N.C., as a representative of the college. During her college years, Ann's parents moved to Statesville, introducing her to the community she would come to love, embrace and serve for the rest of her life.
On visits home to Statesville to see her parents, Ann came to know Winifred Kelly. One lovely summer evening in downtown Statesville, as Ann, Winifred and friends were walking, Winifred's dashing older brother, Melvin, home on leave from the U.S. Army, drove by to see if the "girls" might need a ride home, and so began the friendship and courtship of Melvin and Ann. They were married in November 1955 in Statesville at Broad Street United Methodist Church, and were parted by death in June 2019 when Melvin passed away at Gordon Hospice House. They lived their entire married life together in Statesville. They were a team, they were devoted, and they were both dependent and independent as a married couple. They played to each other's strengths and recognized, throughout their marriage, the gifts and talents that each brought to the marriage, the family and each other. They rejoiced in their individual successes and achievements and they held firm together, steadfast, in times of struggle. Faith and the church were the foundation of their marriage, and together they remained, throughout their lives, devoted to Broad Street United Methodist Church. Ann happily served in almost every lay leadership role offered at Broad Street and took great pride and experienced great joy in actively participating for decades in the choir and as a hand bell ringer. She particularly loved the music of Broad Street and cherished her choir and hand bell friends.
Family meant the world to Ann, both her immediate family and her large extended family, and she welcomed all opportunities for family to be together. She was often the host for the Taylor family gatherings, seeing to the many Taylor family holiday traditions with warmth and style. She gave abundantly to her family's coming together and made sure those times together were special. She also adopted Melvin's family as her own, loving dearly his mother and sister and his many aunts, uncles and cousins. Through all the years, Ann and Winifred Kelly Holton remained close, and the Kelly family and the Holton family have always shared a special bond, including well-loved traditions for holiday time together. But of all the joys in the life of Ann Kelly, nothing made her happier or more content than the time she spent with her grandchildren, Elinor, Sam, Mary Taylor and Katharine. She was the luckiest, happiest and proudest "Grann" in the world!
Ann was the most loving mother to Kim and Mel. For each of them, she was their biggest supporter, loudest fan, and strongest advocate. As a mom, she was genuine, real and honest, with no pretense. She knew there would be mistakes along the way, and she was always there to support the lessons learned from them. As a parent, she never covered up her true beliefs or watered down her true feelings. She never tried to manipulate or control; she spoke the truth, plain and simple. In current terminology, she parented "authentically." She created a home environment where one could embrace their true self and grow in confidence; know yourself, she would explain, and be true to who you are. How lucky Kim and Mel were to have her, how very fortunate and blessed.
Ann was born to do, to participate, to listen and learn, to take responsibility, and to make her voice heard. Just as she parented authentically, she also made her way in life authentically, as a businesswoman, small business owner, and community leader. She used her internal compass and let her values guide her actions. Throughout her leadership roles in business and the community, Ann drew upon her talents to serve others and to collaborate, never seeking what was in her own self-interest, but instead leading to engender trust and develop real connections with people. Statesville and the people of Statesville meant so much to her. Being able to serve the people of Statesville and be actively engaged, making meaningful contributions, was the time in her life she was truly the most fulfilled. Ann's business and civic accomplishments are too many to list, and her many documented awards and achievements could fill a wall with plaques and certificates. She felt very honored by it all, but she never sought it out. In fact, her family and friends always found her to be the most enthusiastic when celebrating the awards and achievements of others.
In her parents' last years, Ann surprised herself with her capacity to nurture and care for her parents, weaving their lives and daily needs into her already busy life. She gave so much of herself to their happiness and contentment as they learned to become active Statesville residents, and then she served them devotedly, with much love and tenderness, as each transitioned from an earthly life to life eternal.
Ann was recently heard laughing with a friend about her two retirements, the first following many years in the residential real estate business, after winding down Landmark Associates, the company she formed in 1978 with Marjorie Turnipseed; and the second after 19 years working at Mitchell Community College raising money for the Endowment for Excellence. She thrived on the challenges and rewards of being a small business owner and selling real estate, as she loved meeting new people and especially welcoming new residents to Statesville. But her passion for doing for others found a home at Mitchell Community College, where she poured heart and soul into the work and mission of "The College" to help assure, in any way that she could, its bright and lasting future. For Ann, this was work for the greater good, and with Melvin as her wing man, they worked as a team to make "The College" fundraising events special and fun, with Ann's flare and style ever present. Mitchell Community College accepted Ann's decision to retire in 2020, and honored her with a lovely Resolution marking her contributions. Due to the pandemic, gatherings at the time of her retirement were not allowed, but she cherished that Resolution, and of all the plaques and certificates presented to her by the many boards, communities and organizations she served for decades, this one meant the most. To the wonderful people of Mitchell Community College, thank you for the love and friendship you shared with Ann. She truly felt at home with you all.
Ann Kelly believed and taught by example, that you should rise each day, with the promise of the day, to make a difference in some way — because a life well-lived with purpose and conviction, with a determination to be the change you want to see in the world, does in fact make change, and does in fact make the world a better place. Kindness matters, respect matters and how you treat each other matters. If there is one word that best describes Ann Kelly, it is "kindness." This tiny powerhouse of a woman accomplished many things, and along the way treated everyone with kindness. As a family, we are saddened beyond measure to say goodbye to our "Grann," but oh how rich our lives are for having had her with us.
Ann is survived by her two children, Kim Kelly Mann and husband Will Mann of Winston-Salem, and Mel B. Kelly Jr. and wife Anne Team Kelly of Charlotte, and her four beloved and adored grandchildren, Mary Taylor Mann, Katharine Kelly Mann, Elinor Carr Kelly and Samuel Henderson Kelly.
Also surviving are her brother, Bill Taylor of Columbia, S.C., her sister, Linda Woodhouse of Fairfax, Va., her sister-in-law, Winifred Holton of Statesville, and many nieces and nephews who are and have always remained near and dear to her heart. Ann was predeceased by her beloved sister Becky Dawson and by the love of her life, her devoted husband, Melvin Bookman Kelly. For their 64 years of marriage, there really was no Ann without Melvin, and there was no Melvin without Ann. They shared an enduring love, a deep and abiding friendship, and a commitment together to do what was right and be their best selves every day.
The family asks that any memorials be made to Mitchell Community College Endowment for Excellence, Broad Street United Methodist Church, the United Way of Iredell County Endowment for the Future, or Bookmarks of Winston-Salem.
Due to escalating pandemic concerns and the many challenges our communities are facing to contain the spread, the family will gather for a private graveside service in celebration of the life of Ann Kelly.
Troutman Funeral Home is in charge of arrangements.