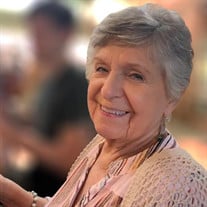 If you were fortunate enough to know Barbara Linzy Bell, to be within the gravity and pull of her orbit, then chances are you probably knew the depth of her love, her adventurous spirit, and her eager and sincere desire to know all of you.
She was many things to so many people: a playful and fearless Mom, a heroic Mimi, house mother/Babs to girls that she cherished like her own, a constant and thoughtful friend and cousin, aunt, sister, daughter, Barbara, and Bobbie. And she was a sensational flirt – waitstaff, bartenders and handsome gentlemen of all stripes were defenseless to her charms. Barbara went whenever and wherever she pleased; "what ifs" did not exist for her, and the hiccups along the road were a welcome part of the journey.
A storyteller to the bone, Barbara chronicled her life's journey through the written word. With wisdom and whimsy, she poured her heart into her writing, never satisfied, always perfecting her work through the hundreds of commentaries she wrote. From childhood tales to her many and varied professions (radio broadcaster, advertising director, and Kappa Delta house director, to name just a few), she even found love and friendship through writing personal ads.
Barbara was cut from a cloth that simply, regrettably, isn't made anymore. Humor, wit, heart, and sincerity were forged into the woman who was our touchstone. She lived each and every day to the hilt, loving generously as she alighted along her wandering path, and she would urge us all to do the same.
Born in Statesville, N.C., to Claire and Christine Linzy, Barbara grew up with her sister Donna, surrounded by a close-knit family of cousins, aunts and uncles. She married the love of her life, Alvah Bell, whom she met at D. Matt Thompson Junior High School. Even when her marriage to Alvah ebbed after 24 years and they carved new life paths, they remained everlasting friends. Barbara and Alvah had two daughters, Jamie Gray and Stacey Solis, and over the years, their family grew to include six grandchildren and two great-grandchildren.
Our Mother, our Mimi, our Friend, died peacefully on July 14, 2021, after 88 years of joyful life.
Family and close friends will gather for a celebration of Barbara Bell's life on Saturday, September 18, 2021, in Charlotte, N.C. For details please contact Barbara's granddaughter, Lindsay Simmons by email at simmons.lindsay@gmail.com or phone 571-419-1665.
Nicholson Funeral Home is serving the family.