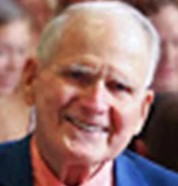 My yearning desire is to set forth and be with Christ, for that is far, far better — Philippians 1:23
Benjamin Franklin Wright, 87, transitioned peacefully to his heavenly home on Wednesday, December 30, 2020, while resting quietly at home in his favorite recliner. Born to Clyde and Lottie Pool Wright in Lincolnton and raised in Kannapolis, he developed a love for football at A.L. Brown High School. In 1953, he entered the U.S. Marine Corps, achieving the rank of Sergeant during his four years of active duty. He served in the Korean War and played football on the Parris Island Marine Squad. He continued playing varsity football at Catawba College in Salisbury until he graduated in 1960 and was scouted by the Green Bay Packers, which became his favorite NFL team.
Most of his adult life and career was spent in Durham, N.C., with Wachovia Bank & Trust Co. as Senior Vice President of the Sales Finance Department. He officially retired and moved to Mooresville in 1999.
Whether known as Ben, Benny, Benji, Daddy or Pawpaw — he loved spending quality time with family and friends. He was passionate about golf, fishing, camping, cars, coffee, plaid shirts, puppy dogs and Trump. He loved laughing and sharing stories of old times with his buddies on golfing and camping trips. Those who knew him well always commented on his sweet spirit and kind personality, often calling him Gentle Ben. God, Family, Country & Friends – he loved and valued all. We will miss him terribly but rejoice knowing that he is face to face with Jesus and in the presence of God forever.
He is survived by his wife, Barbara Wright (Mooresville, N.C.); daughters Kristina Wright (Charlotte, N.C.) and Kristen Buchta (Steve of Palmer, Alaska); sons Michael Kiser (Robin), Alex Kiser, and Earl Kiser (Cheryl) all of Terrell, N.C.; grandsons Austin, Spencer, Travis, Dee, Landon, and Joseph; granddaughters Karri and Caroline (Randy); nephews Juney Jung (Karen), Tim Jung (Jane), and Danny Jung (Judy) of Kannapolis/Concord, N.C.; niece Donna Crainshaw Smith of Shelby, N.C.; and numerous brothers and sisters-in-law and extended family that he loved dearly.
A Celebration of Life memorial service will be planned in the future. In lieu of flowers, memorials may be made to The Pastor's Discretionary Fund, Williamson's Chapel United Methodist Church, 575 Brawley School Road, Mooresville, NC 28117.
Cavin-Cook Funeral Home & Crematory, Mooresville, is serving the Hall family. Condolences may be made to the family at www.cavin-cook.com.