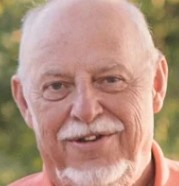 John Clyde Tarbell, 74, of Mooresville, N.C., passed away surrounded by his loving family on Thursday, December 31, 2020.
He was born on March 13, 1946, in Waterville, Maine, to the late Vinal John and Doris Eva Savage Tarbell. John was a veteran, having served in the U.S. Army. He was a Vietnam veteran, Army artillery surveyor 1967 – 1969. He attended Lawrence High School in Fairfield, Maine, Wentworth Institute of Technology and Northeastern University in Boston, Mass. He was a board member of Scarborough Sanitary District and a member of the Portland Lions Club. He was an Engineering and Environmental Consultant. His career consisted of E. C. Jordan; Devine & Tarbell; Northrop Devine & Tarbell; Duke Engineering and Services; Framatome; Devine Tarbell and Associates; and HDR.
He is survived by his loving wife, Edith "Edie" Allen Tarbell; children, Susan and husband Chris Aldrich, and Steven and wife Nicole Tarbell; stepson, Sean and wife Lynsie Duricko; sisters, Dolores and husband Ted Vail, and Priscilla and husband Richard Hobart; brother, Richard and wife Joanne Tarbell; four grandsons, Brady, Andrew, Cole and Colby; and several nieces and nephews.
John loved gardening; was a New England Patriots season ticket holder since the late 1980s He enjoyed golfing when the golf ball went where he wanted it to go. Getting a hole-in-one was one of the highlights of all the golf he played. He adored spending time with his four grandsons. He enjoyed research and planning cross-country trips that he took with his wife. Researching his family tree was a passion of his and he spent a lot of his retirement with the research. John was recognized in November 2020 as an official Mayflower Descendent.
The family will have a service celebrating his life in the summer in Maine . In lieu of flowers, memorials may be made to Stephen Siller Tunnel to Towers Foundation, 2361 Hylan Boulevard, Staten Island, NY 10306 or Wounded Warriors Project, P.O. Box 758516, Topeka, KS 66675-8516.
Cavin-Cook Funeral Home, Mooresville, is serving the Tarbell family. Condolences may be made to the family at www.cavin-cook.com.