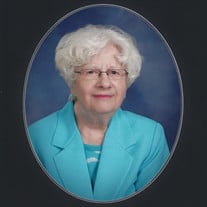 Betty Dawn Waugh Pope, 85, of Mooresville, N.C., passed away peacefully on May 24, 2021, after a short illness. Betty loved spending time with her family and friends and reading a good book. Some of her favorite memories were times spent traveling with her sisters to the beach and mountains, and large family gatherings for the holidays each year, sometimes with more than 70 members of the extended Waugh family.
Betty was born July 24, 1935, in Iredell County, the daughter of Harley Lee Waugh and Daisy Benfield Waugh. When she was 11 years old, Betty contracted polio and spent a portion of her early teen years at the children's hospital in Gastonia. She often spoke of the other children she met there and stayed in close contact with many of them throughout the years.
She attended Celeste Henkel School and Woman's College of the University of North Carolina. After college, Betty worked as a secretary and bookkeeper for the Iredell County Superintendent of Schools, Celanese Corp. in Charlotte, and Total Comfort Inc./Monroe Metal Manufacturing, where she also served as a director of the company.
She is survived by her children, Darin Pope of Wesley Chapel and his wife Valorie; Dana Yeganian of New York City and her husband Charles; three grandchildren, Charis Gegelman and her husband Jon, Isabella Yeganian, and Lidia Yeganian. She is also survived by her sister, Laine Sherrill (Tot), and brother, Jim Waugh, and numerous nieces, nephews, grandnieces, and grandnephews. She was preceded in death by her parents, along with her siblings, Ruby Shoemaker, Camilla Loftin, Desolee Lindsey, Lois Ervin, and Dan Waugh.
The family will receive friends on Saturday, May 29, at 1 p.m. at Bethlehem United Methodist Church, with services to follow at 2 p.m.
In lieu of flowers, the family requests donations to Hospice and Palliative Care of Iredell County, Bethlehem United Methodist Church, or the Gastric Cancer Foundation.
Online condolences can be made to the family at www.nicholsonfunerals.com.
Nicholson Funeral Home is serving the family of Betty W. Pope.