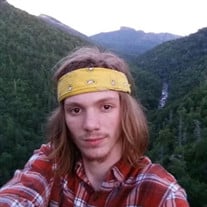 Jamie Lewis, 24, formerly of Statesville, N.C., died May 19, 2021, in Colorado in a motorcycle accident. Born in Iredell County on December 17, 1996, he was a son of Rev. James D. Lewis and Melanie Hutchens Lewis of Statesville, both of whom survive.
He was preceded in death by his maternal grandfather, Larry Hutchens, and his maternal step grandfather, Dale Dockery.
In addition to his parents, he is survived by two sisters, Kristian Lewis of Florida and Ashleigh Lewis of Statesville. He is also survived by his paternal grandparents, David and Diane Lewis, his maternal grandmother, Cathy Dockery of Nebraska, and his paternal great-grandmother, Gladys Minton of Statesville.
Jamie was an avid skateboarder from the time he was 5 years old. He would skate for miles down streets and at skateparks, He continued his passion when he moved to Colorado. Jamie loved to fish, hike, rock climb and camp. He loved to explore lakes, rivers, and woods. Jamie loved motorcycles and had several different ones. He loved playing his video games on his PS4.
Jamie had an incredible heart and loved everybody he met. He made friends with everybody he met. His sense of humor was amazing. He would do anything for a laugh. Jamie loved animals and had one of about everything from dogs to guinea pigs, to turtles, to a parakeet, to scorpions, to snakes. At age16, Jamie was able to travel with teens camping tour of the west. He was able to spend time in 16 states. He fell in love with the west and that inspired him to move to Colorado later in life. He loved ranching and taking care of horses and cattle. Jamie loved all genres of music from hillbilly country to old soul music to rock to rap. Jamie loved to free-style rap. Jamie was a deep thinker and was very involved in political news and world events. He was passionate about life and loved his life and lived his life on his terms.
Funeral services are scheduled for 2 p.m. on Friday, May 28, 2021, at Living Word Ministries with Rev. James Lewis officiating. Honorary Pallbearers will be Bryan Dockery, Joshua Humphries, Nic Ottone and Nathan Kirkland. The family will greet friends from 6 to 8 p.m. Thursday at the church.
Condolences may be sent online to the family to www.nicholsonfunerals.com.
Memorials may be given to Living Word Ministries Building Fund, 347 Jennings Road, Statesville, N.C. 28625.
Nicholson Funeral Home is serving the family.