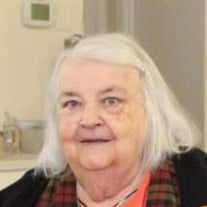 Betty Jean Combs Burns, 82, of Statesville, N.C., passed away May 22, 2021, at Hospice of Iredell County. Born May 15, 1939, in Alexander County, she was the daughter of the late Lottie Head Combs and Roy Lester Combs.
Betty was a member of Fairview Baptist Church and a previous member of South River Baptist Church.
In addition to her parents, she was preceded in death by her husband, John Steele Henderson Burns, and a sister, Dorothy C. Gwaltney.
Betty is survived by a daughter, Mary Burns of Statesville; a brother, Alfred Combs and wife Faye of Pittsboro, N.C.; a sister, Gerri C. Benfield of Stony Point; a grandson, "CJ" Clifton John Burns of Statesville; a great granddaughter, Ellie Leigh Ruth Burns of Statesville; and a number of nieces, nephews and great nieces and nephews.
A graveside service will be held at 5 p.m. on Wednesday, May 26, 2021, at South River Methodist Church with the Pastor Scott Eades and Pastor Paul Hill officiating.
The family will receive friends following the service.
Memorials may be made to Alzheimer's Association, 225 N. Michigan Avenue Floor 17, Chicago, IL 60601.
Chapman Funeral Home is serving the family of Betty Jean Combs Burns.