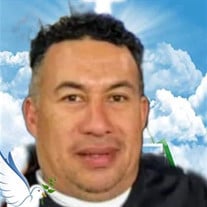 Roberto Carlos Ramirez, 47, died May 20, 2021, in Alexandria, Va. He was born in El Salvador on December 30, 1973.
His father, Jose Maria Vasquez survives. His mother, Maria Neles Ramirez, preceded him in death. He worked for Smith-Midland Corp. in Midland, Va.
Survivors include his wife, Norma Melendez Ramirez; sons, Roberto Carlos Ramirez Jr. and Nathan Johan Ramirez; a daughter, Brenda Arely Ramirez; brothers, Benedicto Vasquez, Oscar Vasquez, Marilu Ramires, Jose Maria Vasquez and Omar Vasquez; along with two sisters, Dora Vasquez and Candida Vasques.
Funeral services will be held at 2 p.m. on Sunday, May 30, 2021, at Nicholson Funeral Home and will be live streamed. The link to live stream is on the funeral home website, www.nicholsonfunerals.com.
The family will greet friends for one hour prior to the service and burial will follow in Oakwood Cemetery.
Condolences may be sent online to the family to www.nicholsonfunerals.com.
Nicholson Funeral Home is serving the family.