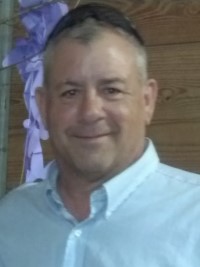 Bo B. Walker, 64, (whose full name must never be spoken) sailed for home on Monday, July 12, 2021, surrounded by his family.
Bo's great loves were his family, the Green Bay Packers, The Hull Truth Boating forum, shooting, riding his Harley and fishing at Harker's Island. He equally loved telling tales ("Stop me if I've told you this"), crossing the boundaries of political correctness, and keeping his folks and the ATF up at night.
In 1975, Bo graduated from Statesville Senior High School, where he was a star athlete. From SHS, he went on to Elon College and, as he liked to tell it, "majored in fraternity and got out a year early." After a brief stint at Laws Stained Glass, in 1979 he joined the U.S. Coast Guard, where he met the love of his life, Michelle Voigt Walker, to whom he has been married for 38 years. During his time in the Coast Guard, Bo was stationed on the Coast Guard Cutter Chilula that conducted rescues for the Mariel boat lift off the coast of Cuba and also commanded search and rescue and Aids to Navigation in Crisfield, Md., and Chincoteague, Va.
In 1983, he and Michelle came home to Statesville, where Bo joined the family business, Walker Insurance. In addition to significantly expanding Walker Insurance, Bo was active in the Independent Insurance Agents of North Carolina, where he served on the Board of the Directors and ended his term as President of the Association. A "down to earth" beloved president, Bo put his personal mark on the Association through his many antics and also by introducing this group of dignified suits to obscure pleasures such as the Blue Man Group in New York City, midnight foot races, and Bahama Mamma's restaurant on the little known Daufuskie Island, S.C.
Bo is well loved by many and always had a smile and a joke on hand to brighten anyone's day (or at the very least turn their face red). His laughter was contagious, even if the joke was stupid. He will be greatly, greatly missed.
He leaves behind his best friend and loving wife, Michelle Voigt Walker; his son Alex (Erica); daughter Tracy (Chris); grandchildren Harker, Henlee and Harlan, who called him Grumpy; and dog Otis Campbell, all of Statesville; many in-laws and extended family, niece Lela Butler, and an awesome sister, Enid Walker Butler of Williamsburg, Va. He was predeceased by his parents, Dr. William L. and Lois S. Walker, also of Statesville.
A "decommissioning" ceremony, i.e. celebration of life, will be held at 3 p.m. on August 7 at Crawford Family Farms, 216 Cannon Road, Statesville, N.C. There will be an opportunity to share one of your favorite "Bo Stories" of which there are many so start now trying to pick your favorite.
Bo was a proud to be a third generation Mason of Lodge 27 and also a Shriner. The family asks that in lieu of flowers donations be made to Shriners Hospitals for Children, 2900 Rocky Point Drive, Tampa, FL 33607 or https://donate.lovetotherescue.org/give.
Troutman Funeral Home is serving the family.