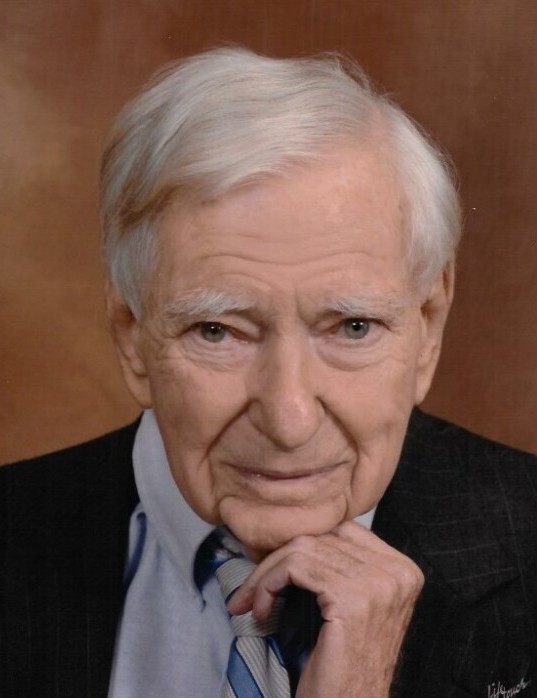 John Gray Lewis Jr. passed away on Tuesday, July 13, 2021, at his home on Lake Norman.
John was born July 31, 1933, in Statesville, N.C., the son of Rachel King Lewis and John Gray Lewis Sr., who preceded him in death. He resided all his life on Davie Avenue in Statesville, first residing with his parents then with his wife, Linda Loven Lewis, until her death. Over the last five decades John and Linda alternated their residence between the homeplace in Statesville and their Lake Noman home.
John graduated from Statesville High School with the Class of 1951. His next seven years were spent at the University of North Carolina in Chapel Hill, first as an undergraduate student then at the UNC Law School. Returning to Statesville in 1958, he began his law career with AB "Gus" Raymer. John later worked with several partners over his career, including Walter Patterson. John retired from Lewis and Patterson in 2016 after fifty-eight years of service. He was a member of the Iredell Bar Association and the N.C. Bar Association.
Early in his career John was active politically in the Democratic Party, including attending the 1960 Los Angeles Democratic National Convention as an alternate delegate. That convention chose John F. Kennedy as its candidate. John was proud to say he was a "yellow dog Democrat."
Next to his love for his wife and his family, politics, and following all things related to the UNC Tarheels, his greatest love was Statesville. John served continuously for many years as one of the initial board members of the Iredell County Historical Association and as a board member of the Historic Preservation Commission. A lifelong member of First ARP Church of Statesville, he served not only as an elder, deacon and Sunday school teacher but also as parliamentarian in the ARP Synod as well as other offices over time. John faithfully attended monthly meetings of the Statesville High School Class of '51 and assisted in creating the class scholarship fund for SHS graduates that continues to the present day. He was also a co-founder and regularly attended a weekly luncheon group for over four decades. This group calls themselves "The Confusion Club."
Throughout his life John especially enjoyed music, particularly classical music. For many years, John and Linda attended the Spoleto Festival in Charleston and the Brevard Music Festival. He stopped attending only after he became unable to do so. He was an avid reader with a special interest in world and U.S. history. John graciously invited cousins and family members to his home to celebrate the Fourth of July at the lake and Thanksgiving at his home in town. He especially loved persimmon pudding from his own homegrown persimmon tree, and he enjoyed homemade strawberry-rhubarb pie.
He is survived by his cousins, William Lewis Armour, Nancy Armour Frankhouser, Henry Shelton Armour, Hugh "Sonny" King, Richard King, and Mary King Fulmar and Linda's cousin, Mary Cooper. During his long illness, John was lovingly cared for by Marilyn McClelland, Patsy Holstein and the caregivers at Sherry's At Home Health Care. Hospice of Iredell County, both in Statesville and Mooresville, provided much care and support.
A memorial service will be held at 2 p.m. on Saturday, August 7, at First ARP Church with Rev. Phillip McCoy officiating. A reception will follow the service at the church.
In lieu of flowers, memorials can be made to Class of 1951 Scholarship Fund in care of Iredell-Statesville Schools, 549 N. Race Street, Statesville, NC 28677 or the Statesville Historical Collection, 212 North Center Street, Statesville, NC 28677.
Troutman Funeral Home is serving the family.