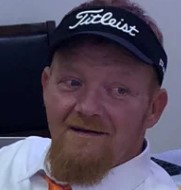 Bobby Lee Whitaker, 47, of Harmony, N.C., and formerly of Greensboro, N.C., passed away on Tuesday, February 9, 2021, following a brief illness at Wake Forest University Baptist Medical Center.
Bobby was born in Guilford County on August 9, 1973, and was the son of the late Robert Samuel Whitaker Sr. and Sarah Ann Marshall Whitaker. He was a graduate of Ben L. Smith High School.
On October 27, 2018, Bobby married Melissa Harris and although their time together may have been short, they lived a lifetime together. Bobby was a man of many words. Not figuratively speaking, literally he was a man of many words. Bobby had a very outgoing spirit and enjoyed people. He found great pleasure in making people laugh and often times would do so at his own expense. Bobby never met a stranger and if they were, it was only because they chose to be. He was an avid sportsman. He enjoyed playing softball, golf, bowling, and shopping with his wife. Bobby enjoyed going to outlet malls. For those who knew Bobby, you can see the humor in going into the Nike Outlet and asking the salesclerk to help him find a pair of shoes. That was the kind of man he was. Bobby found that life had many obstacles but instead of calling them such, he called them building blocks. His laughter and fun personality were contagious and will be missed.
In addition to his wife Melissa, Bobby is survived by four sons, Cody, Brian, and Dylan Whitaker and Gage Marshall, along with two daughters, Kayla Taylor (Timothy) and Kaitlyn Marshall. He is also survived by one sister, Renee Stone; one brother, Charlie Whitaker; and most importantly, the pride and joy of his life, his grandson, Gregory Taylor. He was Bobby's light.
At Bobby's request, there will be no formal services. The family will have a celebration of life service at a later date.
The family request that donations be made to the American Diabetes Association at www.diabetes.org/donate.
Nicholson Funeral Home is serving the family.