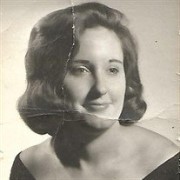 Kathryn Christine Plyler Martin, 79, of Statesville, N.C., died Tuesday, February 9, 2021, at Iredell Memorial Hospital. She was born in Iredell Country on August 23, 1941, to the late Clyde William Plyler and Dorothy Rose Mitchell Plyler.
Kathryn was also preceded in death by a sister, Bobbie Jo Gaither, and her husband WD Gaither; and a brother, Clyde William Plyler Jr.
She grew up in the Lutheran Church. She loved to travel, loved the beach, and enjoyed watching sports such as golf and football.
Those left to cherish her memory are two daughters, Melissa Anne Martin and Donna Martin Whitney; a grandson, Landon Wayne Whitney; a brother, Robert Clarkson Plyler (Carol) of Tennessee; a sister-in-law, Sue Plyler; and several cousins, nephews, and nieces.
A Graveside Service will be held for Kathryn on Friday, February 12, 2021, at 10 a.m. at Oakwood Cemetery. For those who wish to pay their respects, Kathryn will lie in state on Thursday, February 11, 2021, at Nicholson Funeral Home from 12 until 5 pm.
The family requests that no flowers be sent, but that memorials be made to Hospice and Palliative Care of Iredell County, 2347 Simonton Road, Statesville, NC 28625. Online condolences may be left at www.nicholsonfunerals.com.
Nicholson Funeral Home is serving the family.