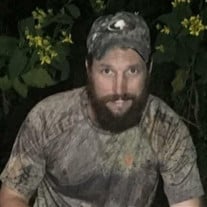 Bradley Jon MacInnes, 41, of Mooresville, N.C., passed away on Thursday, September 2, 2021, at his residence. He was born on January 11, 1980, in Lebanon, N.H., to Barry and Kathie Loso MacInnes.
Bradley was a 1998 graduate of Lebanon High School in Lebanon, N.H. He was employed with MRB Enterprises. He enjoyed hunting and was a hunting guide.
In addition to his parents, Barry and Kathie, he is survived by his wife, Jeanne Chase MacInnes; son, Rydge MacInnes; stepchildren, Cailee McKeown and Cole Miller; maternal grandmother, Hope Loso; sisters, Kerrie MacInnes and Kellie Mussqnug; and brother, Scott MacInnes.
Being an avid hunter, a memorial service will be held later this fall.
Cavin-Cook Funeral Home & Crematory, Mooresville, is serving the MacInnes family. Condolences may be made to the family at www.cavin-cook.com.