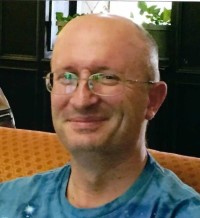 Brian Scot Bowersox, 49, of Statesville, N.C., passed away Wednesday, June 16, 2021, at Gordon Hospice House. Brian was born in Meadville, Pa., on August 10, 1971, to William Charles Bowersox and the late Carole Janae Bowersox.
Brian was a 1990 graduate of Grove City High School in Grove CIty, Pa. After high school, Brian enlisted in the U.S. Army, where he served for eight years, four years active duty and four years in the Reserves. After leaving the Army, Brian worked at Reznor Heating Manufacturers in Mercer, Pa. In 1998, Brian and his family moved to Statesville. Brian worked for Bendel Corporation in Charlotte, N.C., as a welder for 10 years. In 2009, Brian started working for Wanzyl-Technibilt in Newton, N.C., as a lead set-up operator for robots as well as a welder.
Brian enjoyed the outdoors and watching sports, especially soccer. Most of all, he enjoyed spending time with his wife and children, exploring state parks and trail walking.
Left to cherish his memory are his wife of 30 years, Amy Bowersox; son, Deven Bowersox (Abagail); daughter, Carolyn Bowersox (Nolan); and daughter, Elyssa Bowersox; grandchildren, Ellie Mash and Camden Bowersox; father, William Bowersox (Maricarmen); brother, Kevin Bowersox; sister, Jennifer Green (Shawn); father- and mother-in-law, John and Marilyn Griffin; brother-in-law, David Grimm (Marcy); sister-in-law, Shari King; sister-in-law, Mary Ann Emric; and brother-in-law, Brian Griffin; along with many aunts and uncles as well as several nieces and nephews, additionally wonderful friends and neighbors.
A visitation will be held on Friday, June 18, 2021, from 6 to 8 p.m. at Bunch-Johnson Funeral Home in Statesville. Condolences may be left online at www.bunchjohnsonfuneralhome.com.
Bunch-Johnson Funeral Home is honored to be serving the Bowersox family.