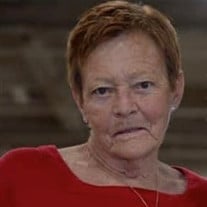 Carolyn "Dale" McLean Satterfield, 69, of Mooresville, N.C., passed away on Sunday, July 25, 2021.
She was born on June 1, 1952, in Iredell County, N.C., to the late Robert Glenn McLean and Carolyn Mayhew McLean. She loved her family, and they always came first. She supported them at every event and was their biggest cheerleader. There was no event that she wouldn't be at with front row seats saved for 20. You could always count on her support.
Dale was the light of the family. She didn't have much to offer materialistically, but what she gave was priceless — and that was love, support, and joy. She knew how to bring smiles to the faces of people she loved. Dale had the biggest heart. She would give anything to make her grandkids and family happy. She always looked at things on the bright side. She loved entertaining and hosting any and every holiday or finding a reason to have a family gathering.
Even at age 69, she was still a child at heart. She loved Mickey and Minnie Mouse. She always had to have a Diet Coke to drink and loved pork chop sandwiches from Mayberry and snow skiing with her best friend Randy. Dale enjoyed simple time out on the back porch, sitting around in rocking chairs. And she enjoyed catching up with one another and watching cars drive by.
In addition to her parents, she was preceded in death by her brothers, Robert McLean II and Scott McLean.
She is survived by children, Tammy Brown and John Michael Ridenhour; sister, Beverly Killian; grandchildren, Valerie Loucks (Adam), Madison Keller (Mark II), Chrissy Barlow (Bill), and Alyssa Brown; and six great grandchildren.
A Memorial service will be held at 2 p.m. on Saturday, July 31, at Cavin-Cook Funeral Home Chapel with Rev. Jacob Hedrick officiating. For those who are unable to attend the service, you may go to the following link for the live stream: https://www.youtube.com/channel/UC864hAs96dTRLVVL1la0Qlw/videos?view=2&flow=list
Cavin-Cook Funeral Home, Mooresville, is serving the Satterfield family. Condolences may be made to the family at www.cavin-cook.com.