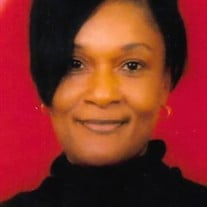 Catherine Denise Martin Almond, 63, of Statesville, N.C., died Monday, December 27, 2021, at the Gordon Hospice House.
She was born in Wilkes County to the late Vernon Martin and Pauline Thomas Martin. She was one of 21 children. She was also preceded in death by a great-granddaughter, Kimora Nevaeh Clement.
Catherine worked two full-time jobs, for RHA Health as a DSA 2 and at JPS Composite Materials. She loved the Lord and reading her Bible.
Survivors include two daughters, Tarshiji (Reginald) Clement and Sheree Clark; two sons, Willie Darnell Martin and Justin (Cortney) Wyrick; 16 grandchildren, Monika Clement, Tashon Gaither, LaBrian Gaither, Chase Gaither, Brittany, Shyman Clark, Tyler Lumberg, Courtney Ellis, Dartavis Martin, Jaden Martin, Willie Martin, Monk, Major, Miriah Wyrick, David Wyrick, and Jaden Wyrick; six great-grandchildren, Kharie McClelland, Kaden Howell, Rosaland Gaither, Messiah Martin, Kensley Jade Harrison, and Cameron Gaither; sisters, Betty Martin and Margret (Arthur) Candy; brothers, Howard Martin, Albert Martin, Alfred Martin, Clyde Rex (Lillian) Martin, and Jerry Martin.
A Celebration of Life Service will be held Tuesday, January 4, 2022, at 3 p.m. in the Nicholson Funeral Home Chapel with Pastor Charles Davidson officiating and Paulette Rucker giving the eulogy. The family will visit with friends from 2:30 to 3 p.m. prior to the service.
Nicholson Funeral Home is serving the Almond family.