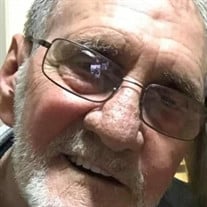 Johnny Leroy Cook, 77, of Statesville, N.C., passed away Sunday, December 26, 2021, at Autumn Care of Statesville. Mr. Cook was born at Longs Hospital in Statesville on May 4, 1944. He was the son of the late Garland Leroy and Catherine Louise Robbins.
In addition to his parents, he was preceded in death by his wife, Nancy B. Cook; his son, Johnny Brian Cook; and a brother, Billy G. Cook.
Mr. Cook attended Statesville High School and Mitchell College. He was employed by JPS (formerly Uniglass) for 46 years as an electrician specialist.
He enjoyed attending spring and fall Spiritual Retreats at Camp Grier Old Fort with a special group of friends and hated it so when his health no longer allowed him to attend.
Those left to cherish his memory include his daughter, Rhonda (Ricky) Adams; step-daughters, Dawn Houpe (Oliver Mayfield), Alice (Bill) Robinson, and Jennifer Dagenhart; his grandchildren, Hannah Gilliland, Sarah Robertson, Tori Annas, Austin Cook, Catherine Cook, Rose and Lilly Houpe, Andy and Casey Robinson, and Jacob Dagenhart; eight great-grandchildren; his brother, Frank Cook; his sisters, Carolyn Snow and Brenda Larkam; and his beloved dog, Shotgun.
Rhonda always said he was happier to see his dog than any person. A special thank you to Jennifer for caring so well for Shotgun after his dad's stroke and for all the many trips for them to visit.
The family would like to acknowledge Brookdale East Broad for their loving care for over two and a half years following Johnny's stroke. He considered this his home and was very content there and hated when the time came for him to leave for additional care.
Mr. Cook will lie in state from 10 a.m. to 2 p.m. on Friday, December 31, 2021, at Nicholson Funeral Home. A celebration of his life will be held at 3 p.m. on Sunday, January 2, 2022, in the Chapel of Nicholson Funeral Home with Pastor Carl Williams officiating.
Nicholson Funeral Home has the honor of serving the family.