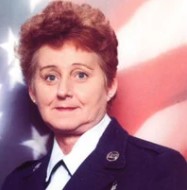 Retired Master Sergeant Cathy Susanne Williams, 71, of Mooresville, N.C., passed away on Sunday, February 7, 2021. She was born on November 9, 1949 in Iredell County, N.C., to the late Melvin and Edna King Williams.
Ms. Williams was a retired medical lab technician with the U.S. Air Force, serving from 1970-1992.
She is survived by her sister, Candyce W. Manning (Bob); niece, Gina Stallings (Steve); nephews, Brian Overcash (Kim), and Kirk Overcash (Teresa); great nieces and nephews, Cameron Buckner (Todd), Tara Howell (Alan), James, Alex, and Dustin Overcash; great great nieces and nephews, Nath, Racie, Titus, Nora, Mason, Abbee, Malichi, and Chevelle.
The family will receive friends on Wednesday, February 10, from 6 to 8 p.m. at Cavin-Cook Funeral Home. Funeral services will be held at 1 p.m. on Thursday at Cavin-Cook Funeral Home Chapel. Burial will follow the service at Glenwood Memorial Park.
In lieu of flowers, memorials may be made to VFW Post 2031, 139 Jordan Lane, Statesville, NC 28677.
Cavin-Cook Funeral Home & Crematory, Mooresville, is serving Cathy's family. Condolences may be made to the family at www.cavin-cook.com.