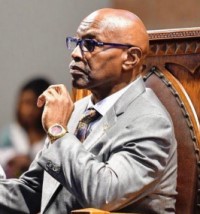 Pastor Donald Andrew Brown (D.A.B.) was born on February 22, 1950. Upon fully completing his journey of 70 years, he slipped away from his earthly dwelling on Thursday, February 4, 2021, with his children by his side, rejoicing in the tranquility of his transition from pain to peace. D.A.B. was lent to the late Bishop Verlon Matthew and Mother Ocie Mae Dowdy Brown as the 11th child of their tightly linked 13-sibling package. His twin brother, Douglas Anthony Brown, preceded him in death, as well as other siblings, Bishop K.E.V. Brown, Blonnette Brown Daye, Mother Mae Nell (Ollie) Lackey, James Nathaniel Brown, and Mother Geneva Chambers Blackwell.
Pastor Brown, lovingly called D.A.B, was a strength to his family, church, and community. He is a lifetime member of Rankintown USA, where his family lived and thrived, establishing many lifelong relationships and connections. D.A.B. was a 1968 graduate of Morningside High School, furthering his education at Livingstone College, where he earned his B.A. in Religious Studies. Lovingly, Mr. Brown, was employed by the Iredell-Statesville School System, serving as a substitute teacher throughout the county, being highly respected by both teachers and students. He was also employed by LifeSpan, where he embraced the challenge of helping to foster young people with special needs. He honed his craft by his willingness to continue learning. He was a Certified Mediation Specialist, Licensed in Family Foster Care, Certified in Student Assistance Coordination, Certified Group Facilitator, and Certified Youth Development Specialist.
Pastor Brown's father, the late Bishop V.M. Brown, was the first Bishop ordained by the late Bishop John Garland Simenton in the Commandment Keepers Church of the Living God (Bibleway). Pastor Brown acknowledged Bibleway Headquarters as his home church, while deeply cherishing the Bibleway Church body at large. Oftentimes, he reminisced on the core of his spiritual life being authenticated in Bibleway from his youth up, having been ordained as an Elder in 1978. His initial sermon was "If I Die Now, I Want Have to Die No More." Brown was an original member of the Jubilee Gospel Singers, serving both as a former president and soulful lead singer. He was also an original member of The Bibleway Harmonizers, the first Eastern District Superintendent, former pastor of Bibleway Church #7, and was instrumental in working with Bishop Simenton at the W.H.I.P. Broadcast. Furthermore, Pastor Brown served as a preceptor for new members and new converts, endeavoring to teach them about the 7th Day Sabbath, holiness, the Trinity and baptism, and encouraging them to stay with the Lord. He was instrumental in the establishing of the Kings Creek Mission, in that God used him to anoint the mission, as well as to ordain Pastor Rufus Connor as the pastor of Bibleway Church #6. Pastor Brown's life of service includes serving as the founding pastor of New Life Missionary Baptist Church, founding pastor of New Beginnings Church, and pastor of Shepherds Church of God. Pastor Brown valued the favor that God bestowed upon him from the late Overseer Henrietta Moore, Overseer Barbara Imes, and Overseer Christine Lattimore. Pastor Brown was relevant and present for many of his church colleagues, supporting the up-building of God's Kingdom. He always had a song in his heart, and a sure Word from the Lord.
D.A.B. was known for his attire and craftsmanship. He was a sharp dresser, possessing the ability to uniquely align each accessory in a uniformed manner, with creativity and precision, right down to his spit-shined shoes and designer socks. He believed in blessing the Lord with his whole heart, but he was intent on being tasteful in fashion while doing so. D.A.B. was a master carpenter, who was extremely brilliant when it came to the art-form of carpentry and construction. Basically, if it could be built or fixed, D.A.B. could do it, as evidenced by the many works he shared with his Facebook friends. D.A.B.'s courage and craftsmanship was two-fold, as he exemplified the strength to unite people, and the courage to eulogize many family members and friends. He married most of his nieces and nephews, and showed up at most graduations and other events. Pastor Brown was the self-proclaimed family historian and unifier. In maintaining the family history, assuring that we all knew our true family origin, while safeguarding the connection between the George and Sephronia Brown and the Verlon, Nancy, and Ocie Brown family remained secure. D.A.B was diligent and spontaneous, willing to travel any distance to show up for his family and friends, generally late, but always sure.
In 1968, D.A.B. married Phyllis Haynes, and to this union two beautiful daughters were born, Maria (Thomas) Brewer and Charlotte (Chiron) Jenkins. He is the proud grandfather of the Fab Five, Jessica (Brandon) Parnell, Aleea, Johnathan, Abria, and Joshua, and the elated Pops of the Greatest 3, Alivia, Jerimiah, Josiah, and one-on-the-way. Cherishing his memory are his siblings, Albertus Matthew (Loretta) Brown of Corona, N.Y.; Mother Vera (LJ) Flowers, David Lee Brown, and Artis Felton Brown, all of Statesville, N.C.; Samuel Lewis (Stephanie) Brown of Snellville, Ga.; and Dennis Jerome (Sandra) Brown of Charlotte, N.C.; along with his sister-in-loves, Mother Evelyn Brown, Mother Bertha Nesbit, Deaconess Theresa Brown, Mother Sarah Phifer and Mary Haynes. In-loves who preceded him in death include Hattie Brown Mathis, Willie OT Chambers, Nebraska Stewart, Thomas Haynes Jr., and Joe Phifer.
Loved and cherished by so many, it was impossible to name you all, including the host of nieces, nephews, god-children, foster children, added grandchildren, special friends, church acquaintances, confidants, and other relationships that we know were very important and valuable. D.A.B. had a unique gift called love! As we know, the scripture qualifies love as the greatest gift! D.A.B. made us all feel special and unique, extending beyond blood relationships, and exceeding any form of superficiality, yielding genuine results that evidence an assurance of "everyone feeling like they were his favorite ______ (fill in the blank)." Therefore, we conclude that the mission of love has definitely been accomplished, and we know that despite the absence of names you know that D.A.B. loved you "for-real."
Celebration of Life Services will be conducted Wednesday, February 10, 2021, at 11 a.m. at New Life Missionary Baptist Church in Troutman. Reverend Ivan Cowan is the Pastor, Bishop O. DeShea Cuthrell will officiate and Dr. Monte Witherspoon-Brown will eulogize. Burial will follow with horse drawn carriage in the Bibleway #6 Cemetery in Troutman.
There will be no public visitation due to the COVID-19 pandemic. Rutledge and Bigham Funeral Home, along with other funeral homes across the country, has been issued a mandate to limit the number of family and/or friends at funeral services.
You can also view Pastor Brown's remains virtually on-line at www.youtube.com. Search Donald A Brown's Viewing.
Visit the Book of Memories for Pastor Brown at www.rutledgeandbigham.com.
Rutledge and Bigham Funeral Home is serving the Brown Family.