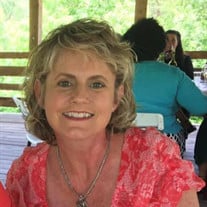 Cathy Swan Eveson, 50, of Mooresville, N.C., and formerly of Culloden, W.Va., peacefully went to be with her Lord and Savior on Monday, May 24, 2021, at home surrounded by her loving family and awesome friends. She was born May 28, 1970, in Culloden, W.Va., daughter of Jim and Linda Swan.
She was preceded in death and is now reunited in heaven with her brother Jason Swan.
Cathy carved out a special place in so many people's hearts with her personality and caring spirit. The love she spread on this earth enabled her to create so many meaningful relationships with so many people throughout her life. It is a testament to the person she was to have so many people step forward in our time of need and show such acts of love in return during her tenacious fight against pancreatic cancer. Beyond being so loving, no one until this year knew the unbelievable inner strength she possessed. Not once during her steadfast battle this past year against pancreatic cancer did she dabble in self-pity. Instead she fought valiantly through every chemo treatment and every doctor's appointment, and she still had the energy to spread love to everyone around her.
She started her journey and lived in Culloden, W.Va., until graduating from Marshall University (aka the Thundering Herd) in 1992. Prior to moving to this wonderful community of Mooresville in 2003, there were a lot of stops in between as her husband's job early in their marriage had them relocating quite a bit. At one time the joke was they had moved more times than they had anniversaries, but they made great friendships at every stop: Northville, Mich., Charlotte, N.C., Columbus, Ohio, Cincinnati, Ohio, Hurricane, W.Va., and Boca Raton, Fla., to name a few.
Once she landed in North Carolina, she took full advantage of what this state had to offer. So many memories of annual beach trips every summer. The Eveson's rarely travel alone, bringing along two or three families at a time. The most recent trip just occurred this past Mother's Day with her kids and special friends for one last coastal hoorah. She also enjoyed traveling to many wineries in N.C. with friends. In the past year at her favorite one, Medaloni Vineyard, with a slushie in hand, she joked it was the one place other than chemo she had frequented more in the past year.
She loved teaching pre-school at Peninsula Baptist, which she did for eight years and was a wonderful influence on so many young children in the area. She also returned to her banking roots most recently for the past few years and was loved by her clients and co-workers.
Most important to her was her family. Her love, support, and co-pilot on one heck of a fun-filled journey with her husband Rick Eveson arm and arm through every turn since 1994. She was the nurturing mother and frankly best friend to two spectacular children, Kyndall Caroline Eveson and Cole Richard Eveson.
Beyond her immediate family, she is survived by her parents, Jim and Linda Swan of Culloden, W.Va.; and aunt Jo Ellen Stephens and uncle John McComas of Huntington, W.Va., along with many other uncles, aunts, nieces, and nephews.
A Celebration of Life Service will be held by the family at Cavin-Cook in the Heritage House on Saturday, May 29, 2021, at 11 a.m., followed by memory sharing, hugging, love, and some light appetizers. To be clear, attire is casual and easy going, the same way the Evesons lived and will continue to live their lives. For those who are unable to attend the service, you may go to the following link for the live stream: https://www.youtube.com/channel/UC864hAs96dTRLVVL1la0Qlw/videos?view=2&flow=list
The family would like to extend their sincere appreciation to the showing of blessings we have received the past year from all around the country during her battle. This includes care packages stretching from Phoenix, Ariz., to Buffalo, N.Y. (where her husband graduated), the many meals, random flower deliveries, and gifts over the past few months from the blessed community of friends she called home. In addition, a huge thank you for all her medical team who tried their best to help Dr. Charles & Ashley and the team at LKN Oncology to the hospice nurses from Iredell County for their unwavering compassionate and supportive care that was provided. Your kindness will never be forgotten.
In lieu of flowers, memorial donations may be made in her name to Hospice and Palliative Care of Iredell County or Carolina Big Hearts Big Barks, a Non-Profit 501c3 Rescue dedicated to the rescue, rehabilitation and adoption of large breed dogs which brought Gunner into our lives last year and will provide ongoing love to the family after her passing.
Cavin-Cook Funeral Home & Crematory, Mooresville, is serving the Eveson family. Condolences may be made to the family at www.cavin-cook.com.