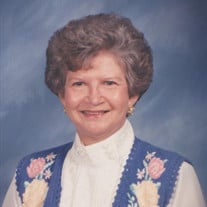 Naomi Beaver Kiser returned to her heavenly home on Monday, May 24, 2021, at Iredell Memorial Hospital in Statesville, N.C., at the age of 87.
She was born on September 11, 1933, in Cleveland, to the late Robert Marvin and Ada Belle Kluttz Beaver. Naomi enjoyed many things, including coloring, drawing, traveling to the mountains, dancing, tending to her flower gardens, and playing cards. She cherished time spent with family and was always excited when children of the family came to visit. She kindly cared for her mother and youngest brother, John, for many years. More than anything, Naomi loved the Lord. She was a devoted member of Amity Lutheran Church. Her family remembers her as lively, generous, and loving.
In addition to her parents, Naomi was preceded in death by her husband of 43 years, Jack Kiser; siblings, Clifford Beaver, Robert Lee Beaver, Ella Mae Hollifield, Grady Beaver, Thelma Brown, and John Beaver.
Survivors include sister, Odessa Stutts; stepchildren, Michael Kiser (Robin), Alex Kiser, Debra Kiser, Earl Kiser (Cheryl); six grandchildren; and numerous nieces and nephews, including Randy Harkey (Melody) and Sharon Duncan (Tony Thompson), who helped care for Naomi in the later years of her life.
The family would like to give a special thank you to caregivers Hollie, Connie, Lainey, Ashley, Brandy, and Juanita.
Family will receive friends on Friday, May 28, from 10 to 11 a.m. with a service following at 11 a.m. at Cavin-Cook Funeral Home. Burial will follow at Amity Lutheran Church Cemetery.
In lieu of flowers, memorials may be made to David Jeremiah Turning Point Ministries.
Cavin-Cook Funeral Home & Crematory, Mooresville, is serving the Kiser family. Condolences may be made to the family at www.cavin-cook.com.