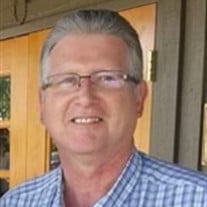 Charles "Mike" McDaniels, 60, of Mooresville, N.C., passed away on November 30, 2021. He was born on June 10, 1961, in Iredell County, N.C., to Betty Campbell McDaniels and the late Charles McDaniels.
Mike's love of God was deep and fierce. He served God in every way he could. He kept all his family close to his heart and prayed over them daily. Mike had a deep love for his wife, children and grandchildren and was known as Pawpaw. He was instrumental in helping with many of his nieces and nephews upbringing and loved them all equally. Mike always found the good and joy in every situation. He loved music, especially gospel music. He had a beautiful voice and was well known for his singing in many churches. He loved cologne and had a great sense of humor. He was loved by his family and he will be deeply missed.
In addition to his father, Mike was preceded in death by a brother, Tony McDaniels; brother-in-law, Lenny Mackey; niece Aron Mackey; and mother-in-law, Wilma O. Mackey.
He is survived by the love of his life, his wife, Donna Mackey McDaniels; son, Josh McDaniels (Darly); mother, Betty McDaniels; grandchildren, Porter Mason McDaniels, Gavin Mitchell McDaniels and Owen Michael McDaniels; brothers, Roger McDaniels (Susan) and Bobby McDaniels (Debbie); and sister, Cathy McDaniels (Thomas). He is also survived by his "other" brothers, John Mackey Jr. and Danny J. Mackey; numerous nieces and nephews; and many great nieces and nephews; and his canine companion, Bella.
Visitation will be held on Monday, December 6, 2021, from 6 to 8 p.m. at Cavin-Cook Funeral Home & Crematory. A Funeral Service will held at 2 p.m. on Tuesday, December 7, 2021, at Cochran Street Bible Church, Statesville, N.C. Pastor Thomas McDaniels and Pastor Connor Lambert will be officiating, along with John Mackey Jr. Burial will follow at Blue Door Cemetery in Mooresville, N.C.
In lieu of flowers, memorial contributions can be made to Cavin-Cook Funeral Home & Crematory, P.O. Box 977, Mooresville, NC 28115, or by calling (704) 664-3363 to help with funeral expenses.
Cavin-Cook Funeral Home & Crematory, Mooresville, is serving the McDaniels family. Condolences may be made to the family at www.cavin-cook.com.