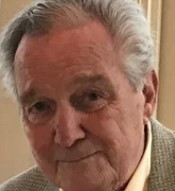 Charles Richard O'Hara was born on December 22, 1937, in Pittsburgh, Pa., and passed in Mooresville N.C., on January 3, 2021, following several years of illness. Charlie was predeceased by his parents, Charles Hugh and Virginia Dawson, and his younger brother Robert, all of Pittsburgh. He was also pre-deceased by his former spouse and the mother of his children, Mary Lawlor O'Hara.
Charlie was an Eagle Scout, a pilot, and a veteran of the Korean War, who went on to graduate from Northrop Institute of Engineering in 1972. Throughout his career at General Electric and other firms, Charlie built power plants across the United States in California, Arizona, Iowa, Pennsylvania, New Jersey, New York, and Mississippi. He also built plants in Canada, Libya and Saudi Arabia. In 2002, Charlie retired from General Electric.
In December 2006, Charlie and his wife retired to Mooresville, N.C. Charlie enjoyed building and flying gasoline engine remote-controlled planes. He was a member of the RC Wingers flying club of Mooresville. Charlie was an enthusiastic Pittsburgh Steelers football fan. He and his wife Kenny enjoyed traveling to visit his family, taking cruises and trips to tropical destinations, and visiting the Outer Banks. His favorite cruise was on the Panama Canal, before the United States returned its ownership to Panama.
Charlie loved his wife and family, country, Christmas and his cat. He was selected for an Honor Flight from Charlotte, N.C., to Washington, D.C., to commemorate his service to his country. Covid-19 prevented travel but he was honored to be considered. Charlie rescued several cats and loved his feline companion Molly, who occupied his lap and adored him.
Charlie is survived by his wife Kenny (Kennetha) Alice McCarthy of Mooresville. He is survived by his youngest brother Cliff (Herbert Clifford) O'Hara and his wife Joyce, and his younger sister Patricia Lorenzi and her husband David, all of Pittsburgh, Pa. Charlie is survived by his daughter, Kathleen O'Hara of Burbank, Calif., and his son, Christopher O'Hara and his wife Kelly of Glenview, Ill. Charlie had five grandchildren, Tommy, Kylie, Alison, Ryan, and Connor, whom he adored. Charlie had two stepchildren, Amie Elizabeth McCarthy of Arlington, Va., and David Donald Strang of Charleston, S.C.
Due to the current environment and national health crisis, a celebration of his life will take place at a later date when it is safe for friends and family to gather safely. In lieu of flowers, family and friends may donate to Disabled Veterans American Organization (https://www.dav.org), P.O. Box 14301, Cincinnati, OH 45250-0301 or Lake Norman Humane Society (704-663-3330, https://www.lakenormanhumane.org).
Cavin-Cook Funeral Home, Mooresville, is serving the O'Hara family. Condolences may be made to the family at www.cavin-cook.com.