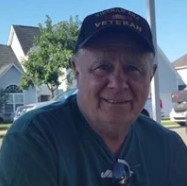 William "Bill" Peter Bergenson, 73, of Mooresville, N.C., passed away on Saturday, January 2, 2021. He was born on July 4, 1947, in Yonkers, N.Y., to the late Walter and Ruth Eleanor Hogg Bergenson.
Mr. Bergenson was a veteran serving in the U.S. Air Force. He was a retired electrician for Local 3 IBEW NY City. Bill was very supportive of veterans and frequently visited Welcome Home Veterans at Richard's Coffee Shop in Mooresville. He was a member of the Mooresville Exchange Club and was very passionate about their Field of Flags project. He was also a member of The Cove Church in Mooresville.
Bill is survived by his wife of 51 years, Judy Marcuccilli Bergenson; children, Wendy Bergenson, William Bergenson, and Katelyn Bergenson; sisters, Karen Rogers and Barbara Hanlon (Howard); brothers, Robert Bergenson and Walter Bergenson (Angela); granddaughter, Lindsay Bergenson; and his beloved fur babies, Ralphie, Lavi, and Cleo the Kitten.
The family plans to schedule a service to celebrate Bill's life at a later date.
Cavin-Cook Funeral Home & Crematory, Mooresville, is serving the Bergenson family. Condolences may be made to the family at www.cavin-cook.com.