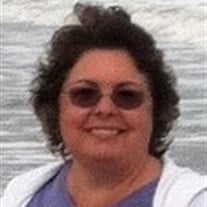 Cherie Lee Breeyear Gauthier, 55, of Mooresville, N.C., passed away on Monday, November 15, 2021. She was born on February 20, 1966, to Gerald Breeyear, her father, and her mother, the late Arlene Provost Breeyear.
She attended Massachusetts College of Pharmacy and Health Sciences, where she received her master's degree. She worked as a PA in Oncology at the VA Medical Center in Salisbury. She ran multiple research studies and fellowship programs. She taught medical students and served as a preceptor. She would do anything for anyone; her passion was serving her patients and veterans. Cherie loved to travel. She had traveled the world with her husband and friends. She enjoyed adventure, music, theater, and the arts. She loved her family and was involved with her children. She was known as the neighborhood mom. She was loved by all who knew her and will be greatly missed.
She is survived by her loving husband of 34 years, Richard Alan Gauthier; children, Meghan Gauthier of Boston, Mass., and Tyler Gauthier of Mooresville; and brother, Scott Breeyear (Vicki) of Orlando, Fla.
A celebration of life will be held at 12 noon on Saturday, November 20, 2021, at her residence.
Cavin-Cook Funeral Home, Mooresville is serving the Gauthier family. Condolences may be made to the family at www.cavin-cook.com.